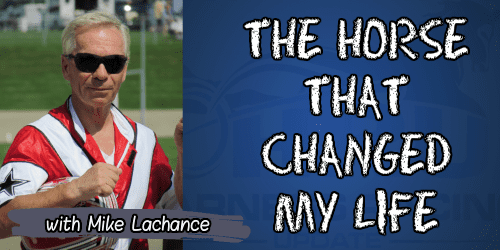 The Horse That Changed My Life: Mike Lachance
by Dave Briggs, courtesy Ontario Racing
(Editor's Note: This item originally appeared on the Ontario Racing website (www.ontarioracing.com) in 2015 under a section called For The Love Of Racing which still adds new stories weekly. Harness Racing Update will periodically republish some stories from the archives and plans to add original ones here featuring the stories of participants from across the harness racing world)
It is appropriate harness racing legend Mike Lachance made what he said will be his last pari-mutuel drive during the Legends Day Trot on Sept. 6 at Ontario's Clinton Raceway.
Lachance, who turned 65 last December, earned $563 with a fifth-place finish with Cimeronken for trainer Daryl Roberts that day. If it was indeed Lachance's last start — he has told a number of racing writers that he prefers to slip into quiet retirement — he ends his career with just over of $190 million, placing him third on the all-time list behind John Campbell and Ron Pierce.
Though the U.S. and Canadian Hall of Famer has driven countless equine stars, he said superstar pacer Matts Scooter was the horse that changed his life the most.
"At the time of my life that I got that horse to drive I needed a horse like that," Lachance said, referring to the pacer owned by Gordon and Illa Rumpel of Calgary and former Flamboro Downs owners (and founder) Charles Juravinski of Dundas, ON.
The fact that Lachance ended up with Matts Scooter at all is a tale of serendipity.
In May of 1988, Lachance permanently joined the driving colony at the Meadowlands Racetracks in New Jersey after a successful 20-year stint spent, mostly, tearing up the half-mile ovals of New York. It was the start of stakes season and Lachance immediately benefited — no more so than in July when he qualified both Threefold and Matts Scooter for the $1,039,000 final of the Meadowlands Pace. It was the first time Lachance had driven Matts Scooter.
Threefold finished third in his elim and Matts Scooter finished fourth and only barely made the cut simply because he was the fastest of the three fourth-place finishers. So, Lachance left it up to the racing Gods to determine which horse he would drive in his first Meadowlands Pace appearance. The Gods smiled down on the Quebecer.
Threefold drew the nine hole. Matts Scooter drew the two. A few evenings later, on a steamy night in New Jersey, a beautiful partnership was born.
"I remember the race like it was yesterday and I haven't seen that race in a long, long time. It was my first million-dollar race," Lachance said. "I got to the front very easily and we went to the quarter very easily in :28-and-a-piece. I remember Ritchie Silverman came on the outside with a long, long shot (Paladium Lobell). I looked at Ritchie and I said, 'Don't try. I won't let you go.' Then I was fortunate that he stayed right next to me. I used him to back up the field a little bit and get some softer fractions in the second and third quarter and the rest is history."
Matts Scooter and Mike Lachance won the 12th edition of the Meadowlands Pace in 1:52.1.
"I was fortunate that I won a few million-dollar races, but that was my first one and Matts Scooter through all time was very close to my heart," Lachance said.
The pairing was more like destiny. Matts Scooter went on to win 37 of 61 races, earn just shy of $3 million and set the fastest mile in the sport, at that time, when Lachance time trialed him in 1:48.2 in September, 1988 at The Red Mile. Matts Scooter is enshrined in both the U.S. and Canadian Halls of Fame.
"He was the perfect horse for me," Lachance said. "I was younger and I was very aggressive. I came from the half-mile track. Matt needed somebody like that, not someone he was afraid of, but someone he would respect… He was a little bit funny with that.
"He was a special horse. He was very, very special to me. I don't know what I did to him, but, believe me, I was happy to be along for the ride… It wasn't that I was poor or just started to make more money. He just came at the right time for me. I started driving on the Grand Circuit."