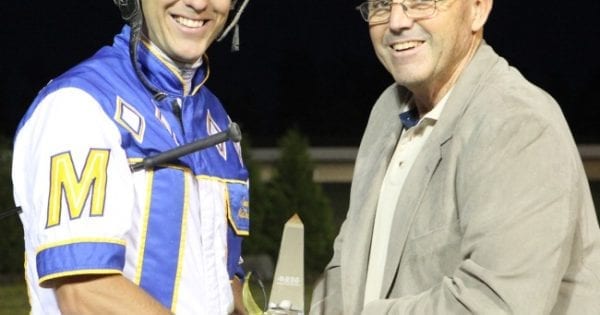 MacDonald, Henry take Ontario; advance to Canadian driving championship
by Jeff Porchak / Standardbred Canada
Driver James MacDonald had the early winning momentum while Trevor Henry finished strong to top the point standings in the Ontario Regional Driving Championship and advance to the National Driving Championship.
Grand River Raceway in Elora, ON played host to the nine-race Ontario regional event on Friday night (June 24) and MacDonald was the point leader from start to finish. The 30-year-old resident of Guelph, ON opened the competition with a victory in the first race aboard Twin B Amour ($12.50) and also earned wins with Master Smile ($10) in the third leg and Little Whiskey Gal ($6.30) in the sixth leg. A pair of runner-up efforts in two other legs also padded his point total and he ended the competition with 78 points.
"I'm pretty pumped," said MacDonald. "It's an honor just to be invited to race with these guys. They're a great bunch of drivers and any one of us could have won with the right card, the right horses, so I'm pretty happy to be the victor.
"And I'm really happy Jody didn't win again," joked MacDonald, referring to five-time Canadian rep and two-time world driving champion Jody Jamieson, who had moved into a two-way tie for second-place with Alfie Carroll before Henry began his late winning crusade.
Henry ranked eighth for points before earning back-to-back victories in the final two legs with Topanga Canyon ($4.60) and Flexie ($7.10). Those victories propelled him to second-place in the standings to edge out Jamieson by one point (60-59).
The 45-year-old reinsman from Arthur, ON, who represented Canada at the 2013 World Driving Championship in France, said he was "ecstatic" to compete in the National Driving Championship again.
The Atlantic Regional Driving Championship will be held next at Red Shores Racetrack and Casino at Charlottetown Driving Park on Saturday (June 25), followed by the Western Regional at Century Downs Racetrack and Casino near Calgary on Sunday (June 26). The Quebec/Eastern Ontario Regional will be hosted by Hippodrome 3R on July 12.
The top two point-earners from each of the four regional competitions will advance to the National Driving Championship on Oct. 14 at The Raceway at Western Fair District in London, ON. The winner of the National Driving Championship will represent Canada in the 2017 World Driving Championship, to be held in Canada.
OFFICIAL POINT TOTALS
1. James MacDonald – 78
2. Trevor Henry – 60
3. Jody Jamieson – 59
4. Doug McNair – 57
5. Alfie Carroll – 55
6. Billy Davis Jr. – 49
7. Nick Steward – 47
8. Paul MacKenzie – 42
9. Bob McClure – 37