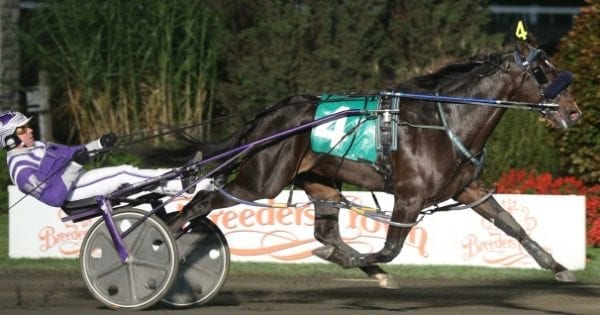 Racing Hill appeared to be in position to win his Pepsi North America Cup elimination before making an untimely break in deep stretch. Trainer Tony Alagna said the Tom Hill homebred will be raring to go when the $1 million (Cdn) final goes to post Saturday night at Mohawk.
by Chris Lomon
Although Racing Hill isn't heading into the $1 million (Cdn) Pepsi North America Cup on a winning note, trainer Tony Alagna has faith his bay colt can reach the pinnacle of pacing success on Saturday night at Mohawk.
Fashioning two seconds and a third in 2016, Racing Hill hasn't reached high ground yet this year. There are more than a few people, however, that believe the son of Roll With Joe—Chasing Ideals is hitting his best stride at the perfect time.
You can certainly count Alagna among them.
"I thought his last start was a very strong effort," said the conditioner, in referencing a third-place effort in one of the NA Cup eliminations on June 11. "He dropped down well after getting off the gate and had an excellent start."
Leaving from post nine, veteran reinsman Brett Miller – who was second with We Will See in the 2010 NA Cup and second with Tellitlikeitis in the 2014 edition — had the Tom Hill bred and owned three-year-old in prime position early.
Despite making a quick break in the stretch, the pair recovered impressively to finish third, one-and-a-quarter lengths behind Betting Line, the 5-2 pre-Cup favorite.
"He got rough there for a moment," said Alagna. "But, we've made some adjustments on his shoeing and he's been training well heading into the race. I like the way he's coming into it."
Miller's post-race comments to Alagna reinforced his growing confidence in Racing Hill.
"He was happy to be going to the final, but he was disappointed they didn't get the win," said Alagna. "If he didn't get rough, he said we were a winner."
On Saturday night under the Mohawk lights, Racing Hill will leave from post six, an ideal position for him according to Alagna, who campaigned Captaintreacherous to an NA Cup win in 2013.
"What I've always liked about him is his versatility," he said. "He typically finds himself closer to the pace – which is what he usually does – but he can also come from out of it as well. That's a nice thing to have in a horse."
As a two-year-old, Racing Hill won five of his 10 starts. He contested the Metro Pace final, won back-to-back Grand Circuit events at The Red Mile in October (Bluegrass, International Stallion Stake) and was victorious in a Breeders Crown elimination at Woodbine.
This year, Racing Hill finished second, defeated by just a nose, in his seasonal debut on May 21 at The Meadowlands. He was also second in an overnight event on June 4 at Mohawk.
The lifetime earner of $147,412 has four wins, two seconds and a pair of thirds from 12 career starts.
"He was very good up there (Mohawk). We just needed a nice start over the track to make sure we were ready for (the eliminations) this week," Alagna said prior to the June 11 performance. "Last year, he was a good-sized horse but he's even bigger and more muscular this year. I think he's got a big shot too. All systems are go."
The homebred colt for owner Tom Hill is listed at 10-1 in the morning line.
Born in England, Hill, now residing in Hamilton, ON, finished second in the 2009 Cup with Art Colony.
"There's a lot to like about Racing Hill, but what stands out for me, other than his versatility, is his gait and his demeanor," said Alagna, a winner of 893 career races as of June 13. "He's got such a great demeanor. From the paddock to the track and during the race, he's never high strung. He's always very professional."
He's also a live longshot in the 33rd edition of North America's richest pacing event.