Lessons in Customer Service
---
Tracks could learn a lot from tiny Grand River Raceway in Elora, ON which has the spirit of a wacky minor league baseball club and a prime directive to listen to its customers and provide them with a positive experience.

---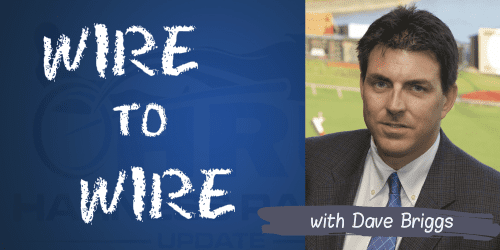 What do harness racing customers want, besides lower takeout?
It's one of the great customer service quandaries in a sport with more than its share of challenges.
But it's not a mystery at Grand River Raceway (GRR) in Elora, ON.
"They want a good time," said Kelly Spencer, the track's unconventional manager of marketing and communications.
How does she know? This may surprise you, but Grand River asked them.
At Grand River, extensive customer research is not only the norm, it's seen as critical to their continued existence.
"For the last couple of years we've invested a lot of effort and, I think, a significant budget into developing a guest care program and training for our staff," Spencer said.
Other tracks could learn a lot from Grand River, a small, modern (est. 2004) half-mile track located in a picturesque artisan community north of the twin cities of Kitchener-Waterloo (pop. 205,000) and the city of Guelph (pop. 115,000). Grand River excels so much in the area of customer experience that this year it won a major Business Excellence Award in Hospitality and Tourism from the greater Kitchener-Waterloo Chamber of Commerce.
How many tracks can say that?
"It is a really big deal," Spencer said proudly of the award. "It was a huge business gala. There were 900 people there. It was really an incredible achievement for us. We attribute that to the insight that we gained from our best customers through the research — and thanks to them. They were able to tell us what they like about Grand River Raceway so we can continue to improve and help our employees on the front lines deliver the experience.
"To chalk it up into a few words, they want a clean, safe environment and by safe I don't just mean safe at face value, as in a place where they feel safe. I mean a place they feel safe bringing their friends and family, knowing that there's little danger of them disappointing their friends and family when they bring them here for the first time. They want warmth and connection and they want the opportunity to really be engaged in the atmosphere."
Employee training has been a key focus in recent years at GRR, which opened its 2016, 48-date live racing season on June 1 and races Mondays, Wednesdays and Fridays through Sept. 28.
"One of the challenges for a smaller racetrack, obviously, is that it's a seasonal operation. In terms of your human resources you're always bringing people in and releasing them once the season's finished and then trying to bring them back.
"We learned quite a few years ago that it's our responsibility to ensure our staff is engaged in what they're selling and what they're selling is an experience. It's up to us to give them the training to deliver the experience that people want when they come to a racetrack. We've been fortunate that we've always had great staff who are really tuned into racing and tuned into guest service. But we wanted to make sure that we kept the momentum running. So we really began focusing heavily on the guest care aspect of our business."
Grand River's customer service initiative is similar to what one might find at Walt Disney World. All employees are trained to be friendly and helpful to guests. Since the day Grand River opened they have had a greeter welcome customers and shake their hands as they enter the building.
"The (survey) respondents name our employees by first name," Spencer said, referring to work done by market research company 365° Integrated. "They know the names of all the employees. They really talk about those little moments that they had that really engage them. We think of ourselves as a customer service organization first and then a racing and entertainment destination second. We're really here to provide an experience."
That experience has rubbed off on the participants who frequently name Grand River as a favorite place to race.
"There are a lot of comments about when a driver stops to talk to somebody along the fence when they're walking back from the winner's circle, or 'so-and-so driver is always smiling in the bike when he comes out in the post parade.' Things that you wouldn't necessarily assume would resonate with people really impacts their experience here," Spencer said, adding kudos to the horsepeople for their cooperation.
"I can't think of any time I've ever had any issue with any horseperson when I've asked them to do different publicity and marketing — and I've asked them to do a lot of crazy stuff over the years. I've never met any resistance whatsoever. I've always found them to be very accommodating. I think on the whole today horsepeople are super aware of the importance of that. They wave in the winner's circle, impromptu. They're often coming out smiling when they know they're on camera."
Grand River is a little like a minor league baseball team where wacky ideas abound and fun is a prime directive. The track does a nightly Tarmac Show of promotions and really ramps up the silliness on Fridays — for what it calls Fun and Frivolity — and especially for its annual big stakes card called Industry Day.
Last year, the track played host to a wiener dog race for the first time. The event was so successful it rivaled the attendance for Industry Day and allowed Grand River to secure a sponsor for this year's event.
"No one was more shocked than me," Spencer said with her trademark infectious laugh, referring to the parking lot being jammed with cars to watch wiener dogs sprint down part of the stretch. "It just goes to show that people really do come to a racetrack to play, to lose themselves for a couple of hours."