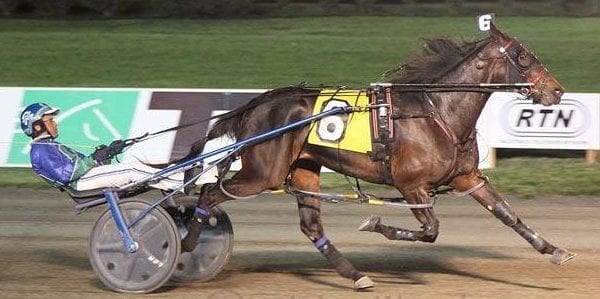 It's been an interesting journey from precocious foal to top New Jersey Sires Stakes filly for Blue Moon Stride.
by Joe Fitzgerald
Blue Moon Stride, who is establishing herself as a dominant force in the New Jersey Sire Stakes program, first caught the eye of Bob Marks, the former marketing director of Perretti Farms, soon after she was born, in May of 2013. The daughter of Rocknroll Hanover — who passed almost two months to the day prior to her birth — and Classic Star, a full-sister to Bettor's Delight and Roll With Joe, and a half-sister to Triple Crown winner No Pan Intended, was pacing around the foaling stall soon after standing and nursing. This was not typical behavior on the part of a newborn, so Marks started referring to her as his little "pip."
Pip's granddam, Classic Wish, who was foaled in Ontario, made it to the Hall of Fame as a broodmare on the basis of her three millionaires, two other $250,000 winners, and two Little Brown Jug winners. However, she was also no slouch on the track. The daughter of Canadian Hall of Fame stalwart Armbro Emerson raced six seasons, making 144 starts and earning $436,000. Classic Wish took her 1:52 lifetime mark at The Red Mile as a three-year-old. She passed in March, 2011 at age 21.
Pip's dam, Classic Star, was no match for her brothers: she started 17 times at two and three, winning three overnights for Steve Elliott and Tony O'Sullivan and earning about $44,000.
Her first foal, Classic Rock, was on the small side. She sold for $40,000 as a yearling and only started 20 times, earning less than $10,000.
Next came Snyderman, who succumbed to colic as a weanling. Then Hollyrock, who was better than Classic Rock, but not much. This mare won four of 24 starts and $58,000.
Pip, who was foaled in 2013, was named Snyderwoman, partly because her dam was purchased from Jeff Snyder, who bought her Hall of Fame sire for $190,000 at Harrisburg in 2003, and partly because Marks thought the name might induce Snyder to bid on her when she entered the sales ring as a yearling. As things turned out, she sold as a weanling as part of the Perretti Farms final dispersal, and Snyder doesn't buy weanlings.
Marks suggested to Mark Harder that he buy her for his Sydney, Australia based client Emilio Rosati, who had struck out with top-dollar purchases such as Well Said Stride ($380,000) and Rockstar Stride ($300,000). Pip would be a bargain compared to that pair. He took Bob's advice and purchased her for $27,000 at the Harrisburg Mixed Sale, renaming her Blue Moon Stride.
The filly chased home freshman champ Pure Country in her second qualifier at The Meadowlands for David Miller in mid-June of last year. After being second again in her first NJSS tilt in early July, she broke her maiden with a handy wire-to-wire win from the eight hole in a $25,000 split of the NJSS at The Meadowlands the following week for Andrew McCarthy. She has an abundance of gate speed and plenty of courage, two qualities that have served her well.
Blue Moon Stride then won the $100,000 NJSS final as the 3-5 choice, again for McCarthy. She held off a fast closing Show Time Hill and prevailed by a neck in 1:53.1.
She hit the road in August, beating Ron Burke's heavily-favored Lyons River Pride comfortably off a pocket trip in a division of the Mary Lib Miller Arden Downs Stake on Adios Day at The Meadows. She also took the $57,000 Geers Stake at Tioga, again for McCarthy and Harder. Then it was on to Canada, where the daughter of Rocknroll finished second to the talented Vintage Master filly Thatsoveryverynice in an $84,000 split of the Eternal Camnation for Jody Jamieson. She had four wins and a pair of seconds in her first six starts, against top tier competition.
Blue Moon Stride failed to make the board in the elimination and final of the Great Lady, which was dominated by O'Brien winner L A Delight. And this was followed by a pair of seconds in the Bluegrass and International Stallion Stake to Tipton Teez and Darlinonthebeach, respectively. She was picked up at the wire in heavy rain in the former, and got locked in to the point where she had to stand on her head to shake loose for second in the latter.
Things didn't go her way in the Breeders Crown; McCarthy brushed her to the top to the half in her elimination only to get swallowed up late. And she was shuffled back to 10th in the final.
The speedy filly closed out the season with a Nov. 20 second-place finish to Yankee Moonshine in the $385,000 Three Diamonds at The Meadowlands. As was the case in most of her starts, she had no problem making the top at the start.
Blue Moon Stride had four wins and five seconds in 13 starts and earned more than $289,000, fifth most in her division, behind only Pure Country, L A Delight, Yankee Moonshine and Shezarealdeal.
Marks said she's obviously bigger and stronger than she was last year. Mark Harder told him, "She'll win a big one this year for sure… She trained down great with a couple of fast colts that wanted no part of her."
The filly was an easy three-length winner in the first leg of the NJSS at The Meadowlands for McCarthy, and she was eased to the top where she won in hand by two lengths in 1:50.2 at odds of 1-9 in the second leg this past Saturday. The $100,000 final is this week.
The three fillies that finished ahead of BMS on the 2015 earnings list, Pure Country, Yankee Moonshine and Shezarealdeal are rated first, third and seventh, respectively, on the Hoof Beats Comprehensive Predictive Rankings list. Blue Moon Stride came in at number 36, after still five more fillies.
Top ranked Pure Country, who won the Dan Patch, has already finished third behind Darlinonthebeach in the Miss Pennsylvania at Pocono Downs and third to that one again in Friday's Adios Betty at The Meadows.
O'Brien winner L A Delight won her first start in an SBOA elimination at Mohawk, but she just finished fourth in the final as the 2-5 favorite. Yankee Moonshine has failed to make the board in her first three starts and Shezarealdeal hasn't been out yet.
Among other stakes, Blue Moon Stride is eligible to the Breeders Crown, Shady Daisy, Glen Garnsey and Mistletoe Shalee.
When originally pitching the weanling filly to Harder, Marks told him that if worse came to worst and she wasn't very good, she would still be one of the best-bred fillies to ever hit the Southern Hemisphere and an outstanding broodmare prospect. He's very happy that this fallback scenario is not the case, and that Emilio Rosati has acquired the best horse he ever bought in America at a bargain price.