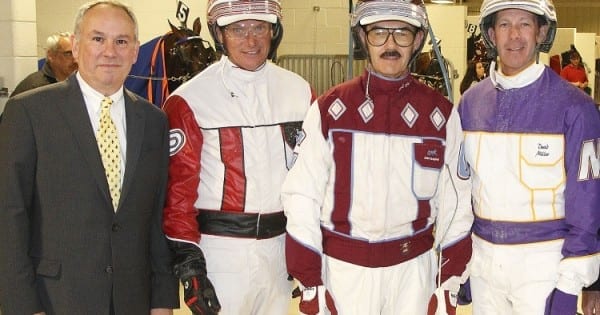 Mark Loewe has led a nomadic life from a standardbred trainer to the manager of horse tracks of all breeds — even a greyhound track — but now feels at home as the vice-president of Ohio racing operations for Penn National Gaming overseeing thoroughbred's Mahoning Valley and harness racing's Dayton Raceway.
by Bob Roberts
Scan Mark Loewe's resume, particularly the roster of tracks where he has worked, and your pari-mutuel curiosity might leave you with at least one unanswered question.
"Hey Mark, what, no jai-alai frontons, inventorying cestas and pelotas?"
"No, never worked one," said Loewe. "But I've been to one."
Of course he has. Loewe, one of the busiest managers in racing, perhaps even a lone wolf in the wagering world, has worked with pacers and trotters, thoroughbreds, quarter horses, even greyhounds and the electrical rabbits they chase.
But it's his current position as vice-president of Ohio racing operations for Penn National Gaming that makes Loewe one of the most unique front office officials in North America.
While there is no documentation, Loewe is believed to be the only horse-racing operator to currently be calling the shots at separate thoroughbred and harness tracks at the same time. Two tracks, two breeds.
Loewe, 58, runs the 75-day harness meeting at Dayton Raceway as well as the 100-day thoroughbred stand at Mahoning Valley Race Course in Austintown, OH, a suburb of Youngstown. The tracks are 234 miles apart.
There are days when Loewe is actually in both places at the same time. Well, almost at the same time.
"I'll leave Mahoning Valley around 3 p.m. and while I don't make the daily double at Dayton, I'll make part of the card," he said.
In addition to quarterbacking the two tracks, Loewe also travels to Columbus for the monthly meetings of the Ohio State Racing Commission.
"I can handle two tracks at once, and the Commission meetings, because I have good teams in both locations," said Loewe.
Too busy to exhale? Not really. These days, his schedule is actually a reduction of duty compared to just two years ago.
Back in 2014, Loewe was wearing hard hats and a couple of soft caps, one for thinking, the other for tipping farewell.
While he was overseeing the construction of Dayton Raceway and Mahoning Valley, Loewe was also in charge of the fading race programs at Raceway Park in Toledo, which was replaced by the Dayton track, and Beulah Park in the Columbus suburb of Grove City, which eventually made way for the Youngstown area track.
"At one point, I was managing live racing at two tracks and two piles of dirt that would become racetracks," said Loewe. "I was living in Columbus, which put me in the center of all the activity."
By the end of 2014, Beulah (in May) and Raceway Park (June) closed so Dayton (Oct. 3) and Mahoning Valley (Nov. 24) could open and Loewe could begin his standardbred-thoroughbred juggling act.
As for dealing with two different breeds of owners and trainers, Loewe doesn't see much of a difference.
"I'm not racing, but horsemen are horsemen," he said. "I don't find it hard to deal with them. And I see many similarities in thoroughbred and harness horsemen. "
Loewe's roots are in harness racing, but from the backside, not the frontside.
As a teenager, his love for the sport had him taking subway lines, buses and trains from his Manhattan home to groom horses at Yonkers and Roosevelt Raceway, but he fulfilled his promise to his parents to get a college education.
"I graduated from St. John's University in 1978 with a degree in government and politics," said Loewe. "Still, I wanted to be at the track."
So in the early 1980's he launched a career as a driver and a trainer. Among his clients was George Steinbrenner, the late owner of the New York Yankees, whom he trained for in the mid 1980's.
"We had a great relationship. I lasted longer with George than Billy Martin," said Loewe, referring to the fiery Yankee manager who was hired and fired five times by Steinbrenner.
Loewe trained his share of good horses, including Threefold and Goalie Jeff, but it's the one who got away at the end of his backstretch career in 1991 that sometimes haunts him.
"I decided to try racing from the frontside and a couple of factors went into my decision," said Loewe. "My wife and I were starting a family and the constant travel from track to track was getting to me. Plus, I didn't like the direction that racing and medication were going. I wasn't going to win races that way."
One of the horses that he turned over was a pacer with a big knee who had moderate success (five wins in 14 races) as a two-year-old. His name was Fake Left.
"We got him for $20,000 because he had run into a fence post and hit his right knee," said Loewe. "I broke him and thought he was good, but not that good."
That good was winning the 1992 Little Brown Jug by a nose over super pacer Western Hanover in a dramatic raceoff. Fake Left's brave effort denied his rival the Pacing Triple Crown.
"I guess you could say I got stupid at the wrong time," said Loewe.
Nonetheless, Loewe had put down his condition sheets and picked up a microphone.
"My first job was as the TV handicapper at Pompano Park. I did it for a few years and then worked my way up, going from the simulcast department to the race office to assistant racing secretary to racing secretary, to director of racing."
After 13 years at the Florida track, Loewe took a short detour, putting together a sale for Hanover Shoe Farm in Pennsylvania.
But he was back in racetrack management in early 2005 as the racing operations manager at Prairie Meadows, an Iowa facility that was a triple threat for horseplayers.
"It was a unique situation," said Loewe. "We had thoroughbreds, quarter horses and harness racing. The thoroughbreds and quarters shared the same racing surface, but we had to turn it over for the harness horses and it was a mile track."
Loewe recognized a good opportunity when he saw one and left Prairie Meadows in 2007 to spend some quality time with man's best friend as the general manger of the Sanford Orlando Kennel Club in Florida.
"It was a chance to join a big company," he said. "Penn Gaming had recently purchased the greyhound track. It was my first job as a general manager. I was there for two-and-a-half years."
In the fall of 2010, Loewe headed for Penn Gaming's foundation track – Penn National Race Course — where he spent two years as the track's vice-president of racing operations.
His work at the track at the foot of the Blue Mountain range helped prepare him for the racetrack management challenge of a lifetime – two tracks and those two piles of dirt that would become Ohio's newest racetracks.
"I'm in the right state, now," said Loewe. "My only goal is to keep it growing and going strong."