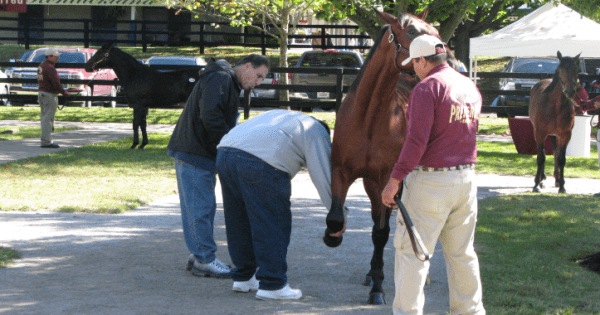 After Huge Sale in 2014 Can Lexington Hit the Jackpot Again?
By Bill Finley
Photo: The Cancelliere Brothers inspect a yearling on the eve of the Lexington sale (photo by George Steele)
LEXINGTON, KY – What do you do for an encore?
That seemed to be the question on everyone's mind yesterday at the Fasig-Titpton sales grounds as buyers, sellers and the sales staff were preparing for the opening night of the 2015 Lexington Selected yearling sale.
The 2014 sale was one of the most remarkable in the sports' history. Coming in, the Lexington team had felt that no bad news was good news, that the best they could expect was to be even over previous years or be up by a fraction. Then came 2014 when opening night was up 21.6 percent and the overall sale was up 10.6 percent. For the breeders and for the consignors, it was the best news they had had in years.
Now what?
"I think it will be difficult to keep it going, that's my personal opinion," said Dave Reid, who, along with Randy Manges, is the co-sales manager. "I think coming into last year the sale was flat year over year and we wound up having a pretty good increase. This year I am going to predict the same thing, flat. If we were down a tick or two it wouldn't surprise me because last year was a historical year."
Adam Bowden of Diamond Creek Farm echoed Reid's feelings, but pointed out that a repeat of last year's figures would be nothing to sneeze at.
"I think it probably will be in line with last year, with similar numbers," he said. "I doubt it will be up, but that's not a bad thing. If you look at it that would mean two straight years that, when combined, showed a significant increase over the previous years. Everybody was ecstatic last year so there would be every reason to be excited if the sale equals last year."
Others are even more optimistic.
"I'd be disappointed if we were equal to last year," said Art Zubrod of Brittany Farms. "I'm very optimistic. I can just judge by what I have and I have a better consignment this year, plus I think the harness racing business is doing very well. The sire stakes programs are so good that people are willing to pay good money for these horses. I think we will be up substantially."
Whether or not that will happen will be easier to answer when the last horse is sold tonight. The cream of the crop will sell tonight during a session that includes one well bred horse after another, many of them by super sires like Muscle Hill and Somebeachsomewhere.
There are 109 listed in the catalogue, a number that will be reduced by a freakish run of bad luck by two major consignors. Both Allerage Farms and Vieux Carre Farms have had to pull all of their horses out of the sale because of unrelated health issues among their yearlings.
"We've had some setbacks with the outs," Reid noted. "It was bad timing but with those consignors it was the right thing to do. It is unfortunate but they did the responsible thing. You cannot take chances to risk the health of any horse in the sales. Both Allerage and Vieux Carre are good consignors and I feel bad for them."
Another factor that will be watched closely is what foreign buyers will do considering the weakness of other currencies vis-a-vis the U.S. dollar. In particular, the Canadian dollar is near the bottom when compared to the U.S. dollars, so the Canadians will have to pay a premium for horses.
"The strength of the dollar and the weakness of the Canadian dollar will have an impact," Reid said. "How you measure it, I don't know. Twenty-one percent of the gross spent last year was spent by Canadians. Some of those Canadians do have American money. They have been racing in the states. But overall this has to be a net negative, I just don't know how to measure it."
Jimmy Takter, who is aligned with many European buyers, said the Swedish Krona and the Euro are also way down when compared to the U.S. dollar, but he didn't think that would impact his clients.
"The people I am involved with from Europe are very wealthy," he said. "So I don't think this will be a big deal to them. Maybe it will be for some smaller, average buyers. The Euro is almost even to the dollar and the Swedish Krona, a year ago was seven to the dollar and now it is 8.50. That's a big difference."
Who will fetch the biggest price tonight? No one seems quite sure but there are several candidates. Based on their pedigree pages, horses to watch include: Hip 11, a Credit Winner colt who is a full brother to Archangel; Hip 19, who is by Somebeachsomewhere and is the first foal from Idyllic; Hip 21, a half-brother to Father Patrick who is by Muscle Hill; Hip 46, a half-brother to Somebeachsomewhere who is by Well Said; Hip 70,a Somebeachsomewhere colt out of the dam that produced the lighting fast Hurrikane Kingcole.