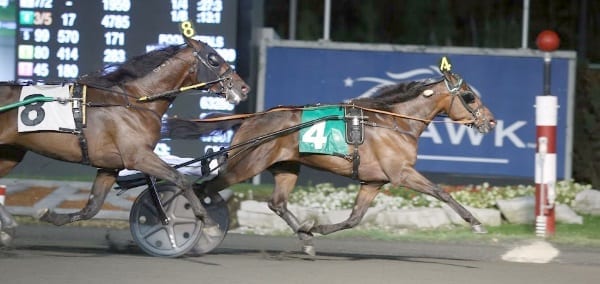 Pinkman Lives Up To Status In Canadian Trotting Classic
By Perry Lefko
Photo by Clive Cohen
CAMPBELLVILLE, ON – The Canadian air certainly agrees with Pinkman.
The gelding by Explosive Matter won the $700,000 Canadian Trotting Classic for three-year-old colt and gelding trotters Saturday night at Mohawk Racetrack.
Pinkman has won four times in four career starts in Canada, including his elimination last week. Last year at Woodbine Racetrack, he won his elimination race for the Valley Victory and then won the $521,000 final.
He'll be back on Canadian soil for the Breeders Crown at Woodbine in a month's time.
Driven by Yannick Gingras, Pinkman was hustled to the front after three-eighths of a mile, passing Crazy Wow, who had the lead after a quarter mile in 27 3/5. Pinkman grabbed control after three-eighths, leading at the half in 56 2/5. He stayed in front the rest of the way through three quarters in 1:25 1/5 and won in 1:53 3/5.
Crazy Wow battled and finished strongly by three quarters of a length. Uncle Lasse was third, followed by In The Bank and French Laundry.
Trainer Jimmy Takter is the conditioner of Pinkman, Uncle Lasse, The Bank and French Laundry. He drove French Laundry.
Pinkman is owned by Takter's wife Christina, Jim and John Fielding, Joyce McClelland and Herb Liverman.
The Fieldings also have pieces of Uncle Lasse and French Laundry.
Liverman is also one of the owners of Bee A Magician, the great five-year-old mare who won the Maple Leaf Trot for aged trotters earlier in the card. Liverman, the Fieldings and Christina Takter are owners of Wild Honey, who placed second to Mission Brief in the $404,000 Elegantimage final for three-year-old filly trotters.
Pinkman's win followed up on his huge win earlier in the year in the Hambletonian. He had some consistency problems in his next three races, but rebounded strongly in his elimination race for the CTC and continued that in the final.
He surpassed $2.1 in career earnings with the $350,000 winner's share.
Pinkman was the 7-10 race favorite and paid $3.40 to win, $2.50 to place and $2.10 to show. Crazy Wow paid $5.00 and $3.30. Uncle Lasse paid $2.50. The exacta paid $17.10 and the trifecta $37.60.
John Fielding said winning the CTC, which he did last year with Father Patrick, is important because he is a Canadian.
"Growing up, the Canadian Trotting Classic was huge, more so than the North America Cup or anything (in Canada)," he said. "The Canadian Trotting Classic was THE race. For me, this is actually a really good one to win.
I think this is very important. The Breeders Crowns are great. The Hambletonian was a dream, but this is a dream too. It's a great Canadian race."
Gingras publicly thanked the owners afterward for giving him the drive back on Pinkman after he elected to go with the brilliant filly Mission Brief in the Hambletonian.
"It's something I didn't expect and I'm very thankful for that," Gingras said.
Fielding spoke proudly of Pinkman, a horse who at one time was going to be put up for sale as a two-year-old and as a last resort was gelded.
"This horse is just a tough, tough horse," Fielding said. "He's a gelding and he has defied all odds. We gelded him and he became a different animal. He concentrated on his business and the rest is history. He went undefeated after we gelded him and this year he's been nothing but fantastic. He came up here last year and won the Valley Victory and then won the won the Breeders Crown (a few races later). The game is a funny game and it's made of dreams and we all get lucky. You've just got to savor the moment when it comes because there are a lot of dull moments as well."
He hugged Jimmy Takter in the winner's circle.
"You have to understand I've been with him so many years, so he's a very close friend of mine as well and I hadn't seen him since the Hambletonian," Fielding said. "If I had have lost I would have hugged him, too."
He laughed when asked what it was like to have multiple horses in the race and to finish first, third and fifth.
"It's great, it's checks," he said. "Listen, these bills will choke a horse. When you get the checks it pays the bills. I love Pinkman to bits, but I really wanted Uncle Lasse to win because he has stallion potential as a full brother to Shake It Cerry. He's from a great, great family. For greedy reasons I wanted him to win, but I'm thrilled either way."
Bee A Magician Beats The Boys In Maple Leaf Trot
The lady is still a champ.
Bee A Magician, the lone mare in a field of older male horses, showed her mettle winning the $680,000 Maple Leaf for aged trotters with a perfectly-timed drive by Brian Sears Saturday night at Mohawk Racetrack.
Sears, who has been her regular driver, followed behind race favorite Resolve going around the far turn and tipped out midway in the stretch to win by half a length. Natural Herbie placed third, five lengths in arrears.
J L Cruze, who was supplemented into the Maple Leaf along with Resolve, was gunned hard to the lead by John Campbell, who led through an opening quarter in 26 4/5 and a half in 55 3/5. Resolve, the 7-5 favorite, cleared en route to three quarters of a mile in 1:24 1/5.
"We got a really good trip, I thought," Sears said. "I had to stay to close to Resolve. You didn't want either (Resolve or J L Cruze) to be too far away. You didn't want any traffic in between you and them, and you also had to worry about Natural Herbie. She showed her grit. She wears an open bridle. She knows how to race other horses. She knows what's going on out there, what we're trying to do."
Bee A Magician won all of her 17 races two years ago and was voted Horse of the Year in Canada and the U.S. She struggled in her four-year-old season facing open company, but rebounded to win the Breeders Crown in her own division in her second-last start of 2014. Sears said trainer Nifty Norman had a practical approach to the mare's four-year-old season.
"Nifty took it in stride last year. He didn't want to put a lot of pressure on her," Sears said.
"Going from three to four, it's a lot to ask sometimes. We tried to be realistic about it. Once we saw she wasn't as sharp as we'd like her to be, we weren't overly disappointed and didn't put undue pressure on her. We raced her, but we weren't going to go to extremes. She did get sharp at the end of the year for the Breeders Crown."
Bee A Magician, second choice in the field at just over 2-1, paid $6.20, $3.20 and $2.40. Resolve paid $2.80, $2.20. Natural Herbie paid $3.60. The exacta paid $15.70 and the trifecta $56.00.
Bee A Magician, owned by Mel Hartman, Herb Liverman and David McDuffee, surpassed $3 million in career earnings with the win, her 40th in 60 career starts.
"This is historic beating the colts, it's a great race to win," Norman said. "She's been terrific. She's bigger and stronger. Everyone comments on how much stronger she looks – plus she got a magic trip. You couldn't have drawn it up more perfect. Brian seems to be capable of doing that."
Norman told Harness Racing Update that the mare will be pointed to the Breeders Crown, October 24 at
Woodbine Racetrack and may race in the Prix d'Amerique in Paris next January.
"You wouldn't have to lay her off, you could just keep going through, maybe give her a week off here and there," Norman said. "It's a better timing. To get a horse ready for the Elitlopp, you've got to give them a rest and bring them back. I think the timing might work better this way. If she did well, you might leave her there."
Southwind Frank Continues Solid Win Streak
It maybe a little early to compare Southwind Frank to Pinkman at this stage of his career, but he's certainly showing positive signs – at least that's the impression of driver Yannick Gingras, who steers both of them.
Southwind Frank increased his record to eight wins in nine career starts with a victory in the $373,000 William Wellwood Final for two-year-old colt and gelding trotters Saturday night at Mohawk Racetrack. It was his fifth consecutive win and followed major victories in the Peter Haughton Memorial and Champlain.
Gingras made a move up the backstretch to claim the lead from Brooklyn Hill, who set the early pace with a quarter mile in 28. Southwind Frank had the lead after half in 57 1/5 and opened up after three quarters in 1:25 4/5 and stopped the clock in 1:55 4/5, finishing 1¼ lengths in front. He went postward at 1-10.
Marion Marauder finished second, followed by Deep Impact.
Southwind Frank paid $2.20, $2.10, $2.10. Marion Marauder paid $8.00, $4.30. Deep Impact paid $3.00 to
show. The exacta paid $12.80, the trifecta $42.20.
Southwind Frank is trained by Ron Burke, who owns the colt with Weaver Bruscemi, Our Horse Cents Stable and Jerry and Theresa Silva, was purchased for $100,000 at the Lexington Select Sale. He collected $186,500 with the win, increasing his bankroll to more than $400,000.
Pinkman was voted the champion two-year-old colt and gelding trotter last year in the U.S. with six wins in eight starts and earnings of almost $600,000.
Southwind Frank looks to be in the same class. His only loss was the result of breaking stride.
"He's won in 1:53 a few times already, I think he's in the same class (as Pinkman), for sure," Gingras said. "Pinkman is a little bit more laid back, this horse likes to do the work. Pinkman at this time as a two-year-old liked to follow, but he's a winner. They're both winners. They both get the job done, but in different ways."
Silva, who has been a partner in many great horses, described the son of Muscle Hill as a sleeper.
"I didn't think he was this good," Silva said. "He's a New Jersey Sires stakes, he's a Muscle Hill (colt) and he reminds me a lot of Muscle Hill in terms of always doing the right thing. He just goes and he seems to be very relaxed. It was a measured win by Yannick. He could have won by three or four, but he didn't have to."
The horse is scheduled to race in his next two starts in Lexington, followed by the Breeders Crown eliminations at Woodbine Racetrack.
"It's Ronnie's talent and Yannick's talent now to make it happen in the race," Silva said. "We've had a lot of disappointments in life. I was at Yonkers last week with Crazy Wow, who broke stride at the start. I'm always nervous about races, but especially trotters. Trotters make me crazy."