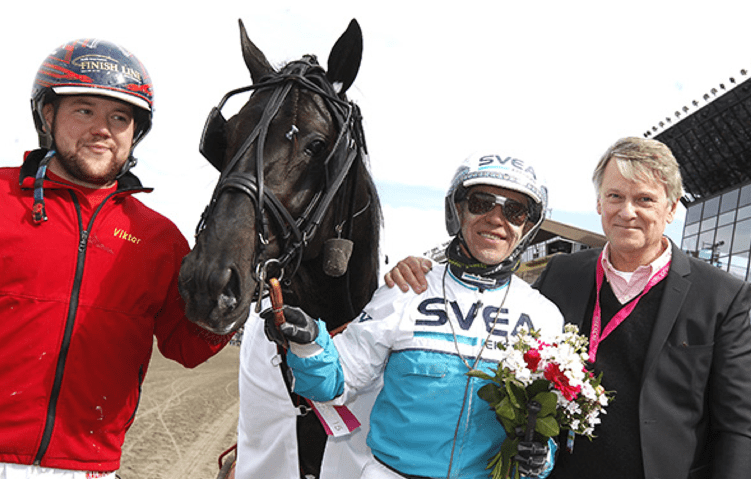 Hambletonian Day was a day of surprises for Swedish trainer Roger Walmann. He thought he could win the Cashman Memorial with Magic Tonight and thought D'One was up against it in the Fresh Yankee. He left that afternoon with a win, but not the one he expected. Magic Tonight, the Elitlopp winner, was dull in the Cashman and finished eleventh. One race later, stablemate D'One was brilliant in the Fresh Yankee, mowing down former Horse of the Year Bee A Magician to win by a length.
Both will be back at Vernon Downs tonight. D'One, the mare, will take on Bee A Magician and seven others in the $177,000 Muscle Hill and Magic Tonight will try again against older male
trotters in the $200,000 Crawford Farms. The card also includes the Artiscape for older female pacers.
As he is the star of the Walmann Stable and the winner of one of the most prestigious events in the world, the focus remains on Magic Tonight. Can he rebound from his off day in the Cashman, which was his first race since the Elitlopp? Walmann believes he will be better than he was at the Meadowlands, but remains a bit worried. He revealed to HRU yesterday that Magic Tonight came out of the Cashman with a blood count that was less than satisfactory and a throat problem and it remains to be seen if he'll be ready tonight for his very best.
"We had a little problem with his blood and a little problem with his throat," Walmann said. "It was not very much but enough to take him down a little bit. I hope it is better this time. We may not have had enough time to get him perfect and he may not be 100 percent for this race. But he was in very good shape before the problem with his throat and blood and he should race good, but maybe he's not yet at top."
With division leader JL Cruze ineligible for this race and slated to go instead a night later at Pocono, the horse to beat in the Crawford Farms will be Flanagan Memory. A blue-collar sort who won only two of 19 starts last year, he has come into his own of late for trainer Rene Dion and has won two straight, including the Cashman. Brian Sears will drive. Every starter but one, the longshot Rossini, is coming out of the Cashman.
Though Magic Tonight failed to get the job done in the the Cashman, Walmann and driver Örjan Kihlström didn't come away from the Meadowlands empty-handed that afternoon as D'One turned in a stellar effort to beat Bee A magician and Shake It Cerry, both Dan Patch Award winners.
"You never know with horses," Kihlström said when asked about the irony of winning with the horse he thought was his second best shot. "I'm too old to get surprised when they race good or don't race good. You never know. That's way it is with racing, We just hope Magic Tonight is better now."