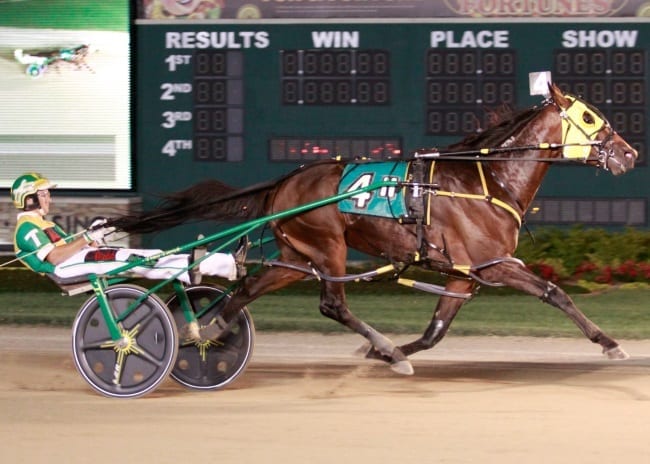 Freaky Feet Pete's Connection Talking Breeders Crown after Dominating Win
By Garnet Barnsdale
Photo by Linscott Photography
Freaky Feet Pete was freaky enough last night at Hoosier Park to get his connections to talk about a Breeders Crown engagement for their homebred start three-year-old colt pacer.
Following one of the easiest 1:48 2/5 Track Record wins you'll ever see in a $75K Indiana Sires Stakes, Freaky Feet Pete's trainer Larry Rheinheimer couldn't dodge the inevitable question: Breeders Crown? "He certainly deserves a chance at it," he replied. "And we're probably going to try it. It's sure looking that way."
Indeed, the way Rheinheimer's homebred performed last night and all season long indicates should be racing against the best and the Breeders Crown certainly doesn't seem beyond his scope. After leaving third off the gate for driver Trace Tetrick, Freaky Feet Pete was asked to go just past an opening quarter timed in 25 4/5 and he moved immediately to the front. The colt, from the first crop from stallion Rockin Image, just kept rolling from there and there was very little movement as the mile progressed as his foes seemed to just be keeping up to his strong pace.
After rolling past the 1/2 in a strong 53 1/5 and the 3/4 in 1:21 flat, only American Virgin, who moved first up from 4th, had made any ground as he made it up to second briefly but clearly was no threat to the eventual winner. Freaky Feet Pete effortlessly paced home 5 1/2 lengths if front in 1:48 2/5 under wraps to Tertrick to set the new standard for three-year-old pacing colts at Hoosier Park. The Big Year slid up the inside to parlay a following trip into a second-place finish and American Virgin was a good third after moving first-over into the strong pace set by the winner.
The winning driver seemed in awe in the winner's circle when speaking of the star colt. "He's just a pleasure to drive; like a nice car," Tetrick beamed. "He lets you do what you want to and when you ask him to go its all business. "He was still strong at the 3/4 pole and right to the wire. He's just an amazing animal."
Winning trainer Rheinheimer concurred. "When he goes to the track, he just amazes me," the winning conditioner exclaimed. "He'll do what you have to do and keep on going."
Freaky Feet Pete, whose only loss came to WiggleIt Jiggle It – who also set a new track record winning the Milstein Memorial at Northfield on this night – may be on a collision course for a rematch of the two great Indiana-breds as both are eligible to the Monument Circle at Hoosier on October 25th. Rheinheimer indicated earlier this week that there is a good chance that his colt will start in that event.
Freaky Feet Pete ran his season's record to 7 wins from 8 starts with one second and boosted his earnings more than $172,000 for owners Mary Jo and Marty Rheinheiemer of Indiana. He has 16 wins from 18 starts lifetime and has earned close to $440,000.
As an overwhelming favorite, Freaky Feet Pete returned $2.10 to win and $2.10 to place. There was no show wagering. He combined with The Big Year for a popular $5.10 exacta payoff. Interestingly, Freaky Feet Pete's time of 1:48 2/5 was 2/5 of a second faster than that of J K Endofanera, winner of the Dan Patch Stakes on this night for aged pacers.