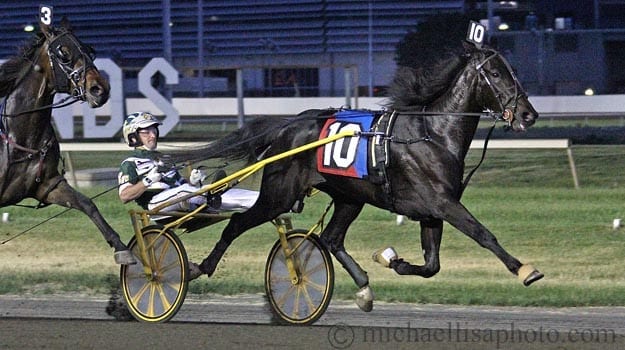 Ron Burke still believes that at 100 percent Mission Brief would win the Hambletonian. He just doesn't know if he can have her at 100 percent on that afternoon.
But Burke will likely get some answers tomorrow night at the Meadowlands when the daughter of Muscle Hill meets seven others in the $187,000 Delvin Miller Memorial, where she will be the heavy favorite in a race restricted to fillies.
"I will have a better idea about things after this race.," Burke said. "I think I'm going to the (July 26) Zweig (for fillies) with her. I don't see any reason not to. It gives me another race. She's only had two starts this year, so it's not like I've killed her. The Zweig has a good purse and I like going to Vernon."
Though Mission Brief is 2 for 2 on the year, she has been battling back problems that Burke says have kept her from performing at her very best. With that in mind, he now says she is "50-50" to go in the Hambletonian instead of the Hambletonian Oaks.
He's been encouraged by what he has seen from the filly this week and is optimistic she'll deliver a top effort in the Del Miller.
"She was vicious Wednesday morning training.," he said. "Am I 100 percent sure she's fine? No. But she definitely has improved."
Burke said the back issues have been a lingering problem that just won't go away.
"I am not sure her back is 100 percent yet," he said. "If I knew her back was going to be 100 percent I would have all the confidence in the world in her. She's as good as any horse I've ever had…probably better. But if you've ever had a bad back you know how it makes everything you do difficult. She just ended up having a bad back. It started with little things and got worse. She had back spasms and that led to other issues. It's a struggle right now. That's why my confidence has been shaken. This is a business. If I have to go in the Hambeltonian Oaks that's still for $750,000. There's nothing wrong with that race. If she's at 90 percent I think she could win the Hambletonian Oaks. She's a special horse. She's not normal."
Burke will also be keeping an eye on his 3-year-old male trotters who will be going in the Stanley Dancer tomorrow night at the Meadowlands. The better of the two appears to be Crazy Wow, who drew post one for the fourth race. The problem is he is not Hambletonian eligible.
"Crazy Wow, I love him," the trainer said. "I expect a big effort out of him Saturday. If Crazy Wow were eligible for the Hambletonian it would make my decision on Mission Brief a lot easier because I believe he can trot with anyone."
Burke will send out Habitat in the first of the two divisions for the Dancer, which is the second race on the card. Habitat is eligible for the Hambletonian.
I don't know if he can trot fast enough to beat the top, top colts," Burke said. "It's a shame because he's a very good horse but you need a great horse to win the Hambletonian."
The Stanley Dancer divisions will likely clear up the picture for the Hambletonian, which has long looked like a case of Mission Brief versus Jimmy Takter. The latter is loaded with 3-year-old male trotting talent and will send out five of the 13 starters between the two Dancer legs.
His best shot at the sport's biggest trotting prize, the Hambletonian, seems to be with Pinkman, who won the Beal last out by a head. He has been beaten just once this year in five starts.
"He came out of that race fantastic," Takter said. "He's feeling great. He's always a contender. He's probably the most consistent of my 3-year-olds."
Pinkman wound up in the same Dancer division as stablemate Canepa Hanover, who broke stride as the 2-5 favorite last out in the June 20 Goodtimes at Mohawk. French Laundry also broke in that race. Neither has started since.
"Those two horses haven't raced in a month, which is a little bit by design," Takter said. "It's a long season and they might not be as sharp as I am hoping for. Both trained in 55 two weeks ago at my farm. They're still top players. I don't know what happened in the Goodtimes). It was just one of those things. I had a horrible night up there. Sometimes you get nights like that."
Takter will also send out The Bank and Whom Shall I Fear in the Dancer. Both landed in the same division as French Laundry.