In our last issue we posed the questions, 'What's the co-fastest pacer in the history of the sport worth?' and 'Can the concept of selling 2-year-olds ever catch on in harness racing?'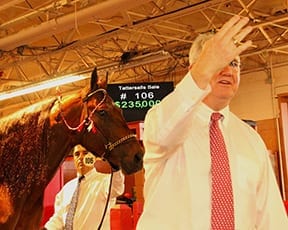 Today, some of these queries were answered at the Tattersalls Spring Mixed Sale at the Meadowlands Racetrack in East Rutherford, NJ.
Overall, the sale enjoyed a 12.6% increase in average ($23,556) and a 3.3% increase in gross sales ($2,379,200) for 101 horses sold compared to last year's inaugural Tattersalls Spring Mixed sale.
On the seasoned racehorse side, Hip 105 Warrawee Needy is one of four horses in the history of the harness racing to go in 1:46.4, the fastest race time ever. In fact, the night before the sale he paced one of the fastest miles of the season at Yonkers Raceway, 1:50.4h, beaten just a head at the wire. That return to form made the $1.2 million dollar winner a very hot commodity, and was hammered down for $260,000 to Mark Ford, Agent.
Another six-figure purchase was Hip 41 My Hero Ron, who went to the powerful Ron Burke Stable for $130,000. "The three horses that beat him in his last two starts you could not buy for anywhere near that price. He is a solid horse and has a (PA) Sire Stake on Saturday so we have a chance get some of our money right back. He's staked to almost everything. He's a good-looking horse. Erv (Miller) takes good care of his horses so we are hoping that he improves like he has in all his starts this year."
A horse that created some buzz over the weekend was Hip 84, Thats My Opinion. Ultimately sold for $60,000 to Andy Miller, Agent, the son of Somebeachsomewhere finished second beaten half a length by Foiled Again in a Meadowlands qualifier on Saturday. He paced his mile in 1:51 and finished ahead of such notable horses as Bettor's Edge and McWicked. Originally a $350,000 yearling purchase, the colt looks to finally be coming into his own.
The highly anticipated 2-year-old portion of the sale saw Hip 2, Backfrom The Brink, a Western Terror colt and a former $24,000 Harrisburg yearling RNA, top the pacing 2-year-old portion. Owned by Brivina Stable, and broken and trained by Tony Alagna, Alagna thought enough of the horse to sign the ticket as agent for $60,000 for one of his Canadian clients. Alagna also bought the topped trotting colt, Hip 9, Rocky Hanover, for a hammer price of $50,000 on behalf of an Alagna client. The son of Cantab Hall enjoyed increased interest by performing well in a baby race the day before the sale.
Alagna, a strong believer in the concept of the sale, believes that it works providing that the horse going into the ring is open for the public to buy. He added, "No one can say you are keeping the best colts. I consigned two of my own to the sale, and thought enough of them to buy them for other clients in my barn. These were not buy backs, the public had every opportunity to bid."
For the most part, the 2-year-olds were well received, especially those that trained or raced the weekend of the sale. They averaged $18,173 for the 14 sold.
Peter Gerry, long-time owner and amateur driver, said he finds the 2-year-old in training model very intriguing, "If I were a breeder I would do more and more of this. The timing should be right after all the stakes payments are made, and when potential buyers can watch the colts train fast or baby race. The on-track efforts I saw on Saturday caused me to buy pacers for the first time in my life. These colts already reside in my current (Janice Conner) stable which allows me to increase efficiencies in shipping and racing, make some money, and have some fun."
Andrew Harris plunked down $35,000 for Hip 12, Suns Out Guns Out. "I thought he trained very well," he said. "He is paid into some nice events. It looks like Ray (Schnitter) pinhooked this Rocknroll Hanover colt. I felt that he was a perfect investment opportunity. You come in on a horse that is all ready to qualify. Not all of us can compete with the big owners at the yearling sales so [the 2yo in-training concept] is a great way to buy that dream without a huge initial purchase price."
Sales Manager David Reid said he was very pleased with the overall results. "We made good progress with the 2-year-old portion of the sale this year as we had serious buyers interested in a majority of them. Obviously, the individuals that trained forwardly and/or baby raced sold better than others. With today's results, I was encouraged to see that the public is starting to see our vision and are willing to participate in our mission to build a two-year-old market. We are committed to our effort to build this market."
"As for the horses 3-year-olds and up, the sale was very strong with a vast majority of horses offered proving that they can compete in several jurisdictions. Once again, today proved that the best option for selling racehorses is in the public marketplace."
Tattersalls will conduct the Summer Mixed Sale at The Meadowlands on Sunday, August 2nd during Hambletonian week.