By Bill Finley
With Dave Miller unable to commit to the drive, trainer Daryl Bier has named Dave Palone to drive Wind Of The North in the Elitlopp.
"Dave (Miller) just couldn't commit," trainer Daryl Bier said. "He didn't know what was going on and thought it was too far ahead. There are four New Jersey sire stakes finals and the Rooney that same weekend. Dave (Palone) and I go so far back. He's a good friend. Back in the day he gave me a place to stay. I was living in his spare room for about a month and a half until I got on my feet. He fed me, too. I'll be absolutely thrilled to be over there with him."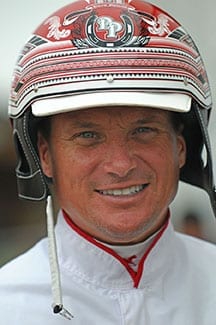 Gearing up for the trip to Sweden, Wind Of The North will face a tough assignment tonight at the Meadowlands in a prep for the Cutler Memorial. He was beaten last out at Chester as the 5-2 favorite, but Bier said you can put a line through that race.
"When I bought him they had him on Lasix and with trotting hobbles and when I training him down he trained very well without the trotting hobbles and he actually trained very well without Lasix," Bier said. "Lately, he's been having problems with dehydration and I've been giving him the minimum amount of Lasix. Actually, the other day at Chester he came out of race with the thumps. So I decided it was time to take him off Lasix. He really didn't race well over there at Chester. He didn't get a good trip but usually when they get the thumps they get distanced. We worked him out, got him hydrated; his blood is good and he should race great (tonight)."
The Meadowlands feature includes several big names like 2013 Horse of the Year Bee A Magician and 2012 Hambletonian winner Market Share. The morning line favorite is Melday's Monet, who is coming off a win in the Meadows Maturity. DW's NY Yank, a winner of three straight in the open ranks at Yonkers, is also a threat.