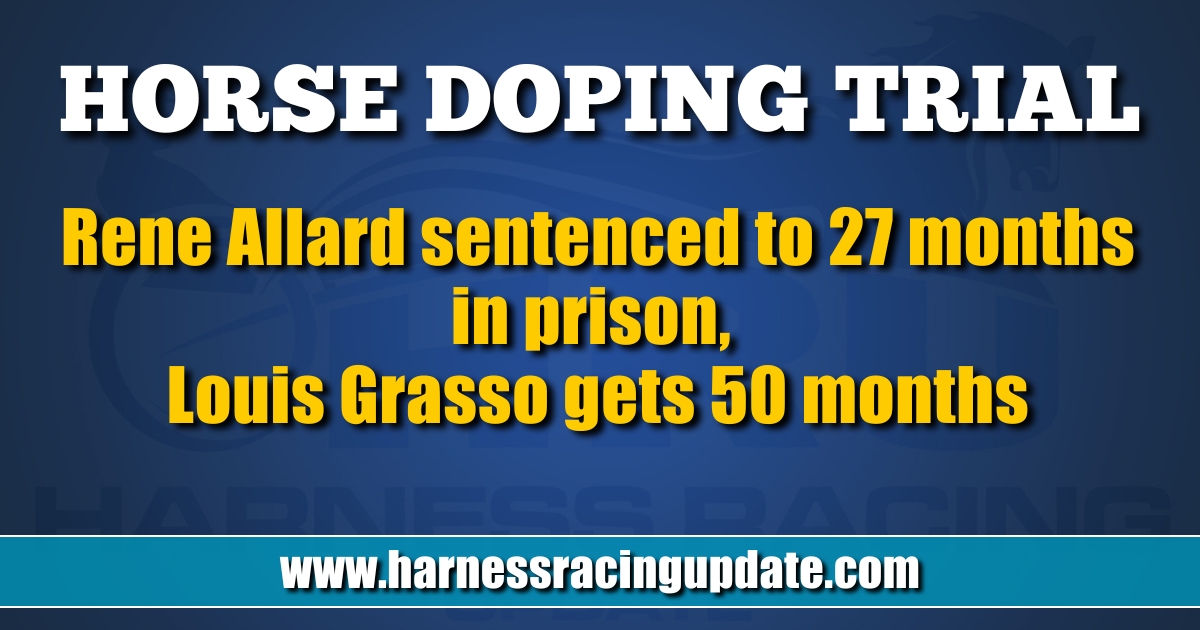 Rene Allard sentenced to 27 months in prison, Louis Grasso gets 50 months
Both plead guilty to one felony count of misbranding and altering drugs in a federal horse doping case that has, so far, netted some 30 accused, with many already handed prison sentences.
by Bill Finley
Sentences in the doping cases involving trainer Rene Allard and veterinarian Louis Grasso were handed down this week by U.S. District Judge P. Kevin Castel, with Grasso receiving a 50-month prison sentence and Allard getting a 27-month sentence.
Both had previously plead guilty to one felony count of misbranding and altering drugs.
The Allard sentence was three-months shorter than the one given to trainer Richard Banca, another key figure in the doping scandal that has sent shockwaves through the standardbred and thoroughbred industries. Government prosecutors had asked the judge to give Allard 30 months, while his lawyers lobbied for an 18-month prison term. The maximum sentence for misbranding and altering drugs is five years.
Commenting on the sentences given to Banca, Allard and Grasso, Damian Williams, the United States Attorney for the Southern District of New York, said the actions of the three amounted to animal abuse.
"Illegally doping racehorses is animal abuse in the service of greed," Williams said in a press release. "Such corruption threatens the health of racehorses and undermines the integrity of the sport. Today, three defendants have been sentenced for their roles in perpetuating, and profiting from, the mistreatment of animals. The sentences each defendant received appropriately reflects the seriousness of these offenses in the eyes of the law."
In its sentencing submission, federal prosecutors portrayed Allard as someone motivated by greed and that there were no limits to his doping routines.
"Allard, for years, trained and raced horses through use of a covert 'doping' scheme intended to corruptly gain a competitive advantage in races through the administration of performance-enhancing drugs (PEDs)," the sentencing submission read. "Allard obtained from co-defendant Louis Grasso and others unapproved, untested, novel PEDs that he caused to be administered to his horses, despite the inherent risks of administering unnecessary medications to the animals under his control. Allard was motivated by greed, fraudulently earning tens of millions of dollars in purse winnings through his craven efforts to manipulate races."
The submission continued: "The defendant's callous and casual doping of racehorses is serious conduct, meriting a serious punishment."
The prosecution also noted the volume of illegal drugs Allard kept at his barn, calling it a "small pharmacy worth of drugs."
In particularly troubling chapter in the Allard scandal, the Federal Bureau of Investigation intercepted a phone conversation in which two other alleged conspirators discussed the deaths of horses trained by Allard after they had been given illegal drugs. One reference caught on wiretap described the trainer's operation as the "Allard death camp."
Allard's lawyers, Max Nicolas and Rebecca Orel, asked for leniency, calling Allard a "good and decent person."
"Mr. Allard has no criminal history, and his two years on bail in this case were without incident," Allard's lawyers wrote. "He has an eighth-grade education. He is a family man who lives with his fiancé and their two young children, ages three and four, for whom he is the sole financial provider and for whom the effect of his incarceration will be devastating, a reality that is referenced in the Probation Department's sentencing recommendation of 24 months."
Through his lawyers, Allard expressed regret for his actions.
"Although Mr. Allard always purchased drugs from licensed veterinarians, he knew that what he was doing was wrong, and he was motivated in part by a desire to improve the performance of the horses he was training and thus to win more races," the lawyers wrote. "By engaging in this conduct, he compromised the potential well-being of the animals that he loves and around whom he has lived his entire life. He is deeply sorry for what he has done and bears total responsibility."
As part of his plea agreement, Allard had agreed to pay a $628,553 money judgment, which represents the value of the forfeited drugs.
According to the government, Grasso, Allard and Banca worked in tandem to procure and manufacture drugs that would give their horses a competitive advantage.
"Grasso, a veterinarian, not only accepted payment in exchange for prescriptions for powerful and medically unnecessary PEDs, but he also created, distributed, and administered custom-made PEDs that were all misbranded and adulterated substances designed solely to improve racehorse performance," read a press release from the U.S. Attorney's Office Southern District of New York. "Through this fraudulent scheme, Grasso helped corrupt trainers collect over $47 million in ill-gotten purse winnings."
In the original indictment that covered Grasso, the government charged that Grasso and others delivered and received "at least thousands" of units of PEDs issued by pharmacies pursuant to invalid prescriptions. According to the indictment, Grasso was also manufacturing and/or selling "epogen," pain shots of joint blocks, bronchodilators and a substance called "red acid." Red acid is believed to reduce inflammation in joints.
Still another figure in the doping scandal, former trainer Nick Surick, will be sentenced Dec. 15.