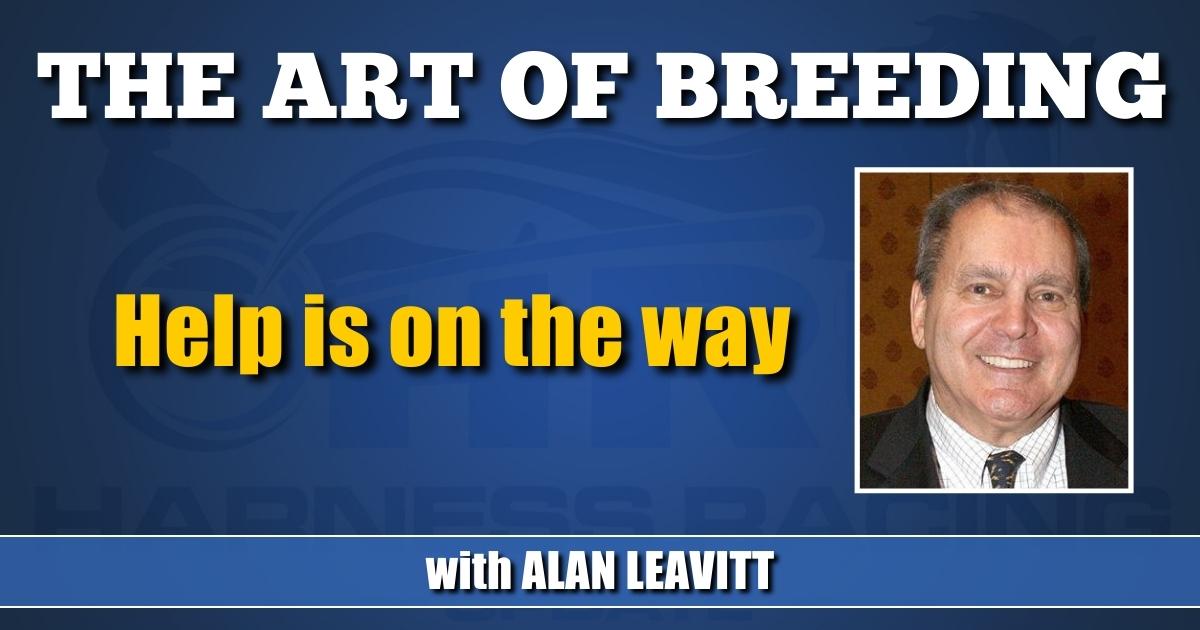 by Alan Leavitt
For the first time in at least 10 years, Helpisontheway has displaced Swan For All as the leading money winning trotting sire of 2-year-olds in the Indiana Sire Stakes. Not that the new boy in town doesn't still have a ways to go before he matches Swan For All's siring feats that gave us Hannelore Hanover 1:49.2 and over $3 million in earnings and millionaire and Breeders Crown winner Fiftydallarbill. Helpisontheway still just has his first crop of 2-year-olds at the track, so we can only guess at how high is up.
Contrary to my expressed belief that a colt's 2-year-old season is the best indicator of his future sire potential, Helpisontheway was at best mediocre at 2. He eked out $36,388 in eight undistinguished starts with one win and one third. I can't find whatever record he took in his one win, but I doubt that he broke any speed limits doing it.
At 3, it was a different story. In 16 starts at 3 he scored nine wins and five seconds, and won $574,058 for his trainer, Linda Toscano. He mopped up the New York Sire Stakes, from the boonies to the Yonkers final, plus finishing second in open competition in the Yonkers Trot and the Carl Erskine.
He went into the stud at Maple Lane Farms, in Grabill, IN where he met with a warm reception. In his first year standing there he bred 118 mares and got 74 registered foals. While one swallow doesn't make a summer, from what we've seen so far his future looks bright.
Looking at Help's 5 generation pedigree is personally painful, as I'm forced to admit in a minute. For the basics, Help is sired by the ill-named Chapter Seven, and out of Porque, a fast mare who earned over a quarter of a million dollars, by Plesac.
Chapter Seven is by Windsong's Legacy, a Hambletonian winner who sired only three crops before his untimely death at Perretti Farm. From those three crops he gave us the leading trotting sire of the present day, and also the millionaire trotting star Lucky Chucky. Had he lived, one can only imagine what his contributions might have been.
Help's great grandsire on the top line, or Tail Male, was Conway Hall, bred by Meg and me, on up to Garland Lobell, whom I bred at Lana Lobell, although it wasn't totally by design.
Garland's dam, Gamin Lobell, was the result of some clever yearling shopping by Jim Harrison, who was running Lana Lobell for me. He picked up on the fact that just before the 1972 yearling sale at Harrisburg, Hanover had bailed on their sire Ayres, selling him off to darkest Italy. But three years before, Jim Simpson, who was running the Shoe Farms, still had faith in Ayers, who had been a great Triple Crown winner for him when he was still training and driving.
As a result, Ayres had been bred to some of the good Hanover trotting mares, and the result was some delicious trotting fillies in the '74 sale. Jim and I bought five of them, and the highest priced one, at $9,300, was Genya Hanover, the dam of Gamin Lobell.
Gamin Lobell was by Speedy Crown, and what she sold for as a yearling is lost in time. But by the time she was 4, she had taken a record of 2:05 and earned $43,338. And she was then owned by a guy from Illinois who convinced me that I couldn't live without her, so I wound up calling Harrison to tell him we now owned Gamin Lobell again, and oh yes, please send this guy a check for $20,000.
Never a believer that cogent thoughts and a mild tone were the best means of human communication, Harrison almost succeeded in breaking his telephone again when he slammed it down after screaming at me for buying a mare by Speedy Crown when we were standing both Speedy and his great son, Speedy Somolli.
In Harrison's defense, two years as a tail gunner on a
Marauder bomber during the Second World War could do a lot to rub out some of the accepted finer points of human relationships.
So when we sat down to book our mares that fall and we came to Gamin Lobell, Harrison, as usual, had the answer in ABC Freight, who served as a kind of mascot to our big guns, Speedy Crown and Speedy Somolli.
But ABC Freight had great sire credentials, although at the time we didn't realize how great. At 2 he won the only big money 2-year-old trotting stakes, at Roosevelt, then went to the brand new Meadowlands and whipped an aged field of fast class trotters in 2:00.4, then flew to Hollywood Park where Joe O'Brien time trialed him in 1:56.4, setting new world record by over two seconds.
ABC Freight didn't come back at 3, which we thought then was the defining year for a future stallion, and he wound up at Lana Lobell on a lease. In retrospect, we should have promoted him much harder and bred more of our mares to him. Hindsight is always 20-20.
So that's how Garland Lobell came to be. He fetched up on a farm in Quebec, where he caught my eye because he always was one of the leading percentage sires, despite standing, as it seemed to me, slightly south of the eternally snow-capped steppes of Russia.
So that's Help's Tail-Male line. On the bottom, the dam's side of the pedigree, Help's second dam is Hornby Michelle, whom I remember and weep. I bought her as a young broodmare in foal to a horse I can't even remember now, but I liked him and it was because of the foal she was carrying that I wanted her.
The ink was barely dry on the check I wrote for her when she aborted. There went all the reason I wanted her. We did keep her around for one breeding season, when I shunted her off to a horse who stood here only briefly, Incredible Abe, and then I sent her through the Delaware sale, and Joe Thomson was smart enough to buy her. She's been a good producer for Winbak, which includes Porque, who won over a quarter of a million dollars and then gave the world in general, and Indiana in particular, Helpisontheway.
It's great work if you can get it, and if you get it, won't you tell me how?