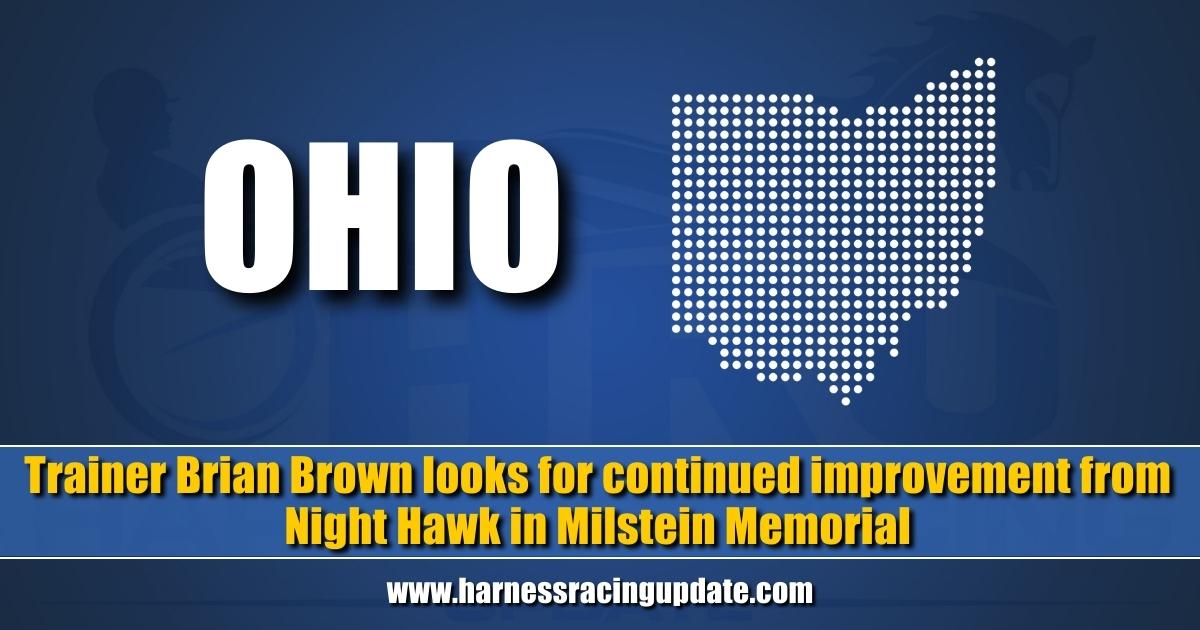 Trainer Brian Brown looks for continued improvement from Night Hawk in Milstein Memorial
The $300,000 invitational honors Northfield Park's former owner.
by Jay Wolf
Trainer Brian Brown has made some recent equipment adjustments and is looking for great things from Night Hawk, who has been tapped at the 4-1 second choice in the morning line for Saturday night's (Aug. 13) $300,000 Carl Milstein Memorial Invitational for 3-year-old colt pacers at MGM Northfield Park.
The sophomore son of Betting Line is co-owned by the Leeman Lombardo Stable, Joe Sbrocco, In The Gym Partners and Acadia Farms.
Night Hawk has danced in almost all of the big events so far this season — finishing fifth in the $770,000 North America Cup final (June 18), fourth in the $600,000 Meadowlands Pace final (July 16) and third in the $258,300 Cane Pace (Aug. 6).
"He's been in most of them. We skipped the Adios with him just because he raced (so much) and just to give him a little break," said Brown. "He raced good last week (in the Cane Pace final), but I think he should be better and finish stronger, so we are changing his bridle, going to close him up a little."
Brown and Night Hawk may have already won of the biggest events this week, the post position draw. Night Hawk, who will be driven by Ohio native David Miller, will leave from post position #1.
"We were lucky enough to get the rail. We are in a good spot," said Brown "You hope for the rail every time you enter at Northfield, whether it is a non-winners of one or this race."
Night Hawk, a $35,000 yearling purchase at the Lexington Select Sale, was lightly raced at 2. He won both of this freshman starts in Pennsylvania Sire Stakes action earning $54,219 and taking a mark of 1:52 at Harrah's Philadelphia.
"He was sore in the hind cannon bone," said Brown. "We tried to swim him, but as soon as I trained him, he would get sore."
Night Hawk has pushed his career earnings to just under $250,000. He was second in the first PASS leg at The Meadows and took his 1:48.4 career best mark in the second sire stakes leg at Pocono Downs – a neck win over Mad Max Hanover.
"He was terrific that day," said Brown. "He hasn't been as sharp since that day. We are trying to change things. After that start I went to aluminum (shoes) and I don't think he liked them. We took them off and he was really good gaited at the Meadowlands, I think we are going in the right direction."
The Ohio bred, Bythemissal (7-5 morning line) comes into the invitational off the $350,000 Adios Pace final and Ohio State Fair wins – in 1:48.3 and 1:49.3 respectively. The Downbytheseaside gelding has won seven of his eight career starts. His only blemish on his card is a second-place finish to Pebble Beach in their Adios elimination. Bythemissal will be piloted by Chris Page for trainer Ron Burke and his owners — Burke Racing Stable, Eric Good, Rich Lombardo Racing and Weaver Bruscemi.
Bythemissal's stablemate JK Victory (Ronnie Wrenn, Jr. – Post #4) is the third choice in the morning line at 9-2. The Indiana-bred gelded son of Jk Endofanera has been first or second in each of his seven seasonal starts and has nearly $200,000 in career earnings. Ron Burke trains for the 3 Brothers Stable and Caviart Farms.
"The mile Bythemissal went at The Meadows was a hell of a mile. To come first up and just ride out there from the half on," said Brown. "At Scioto, he just jogged a mile in (1):49.3."
The race honors Carl Milstein, who owned Northfield Park from 1984 until his passing in 1999. The Milstein family operated the track until July 2018.
The Milstein undercard features a pair of $100,000 invitational events restricted to Ohio-bred older horses and a pair of Ohio Sire Stake divisions for three-year-old colt trotters.
The Tom Aldrich President's Trot will feature a nine of the state's best performers – Refined (Matt Kakaley – Post #5), Herculisa (Brett Miller – Post #7) and It's Academic (David Miller – Post #9) are expected to take much of the betting action.
The Myron Charna Invitational Pace looks to be a wade open affair. Northfield Park based One Last Laugh (Hunter Myers) drew the rail spot and is the field's third richest performer in 2022. Breeders Crown champion Ocean Rock (David Miller – Post #5) returns to the 'Flying Turns' and Charlie May (Brett Miller) continues his streak of post position draws in big Northfield stakes by drawing the trailing post #9.
Trainer Chris Beaver and driver Aaron Merriman swept the Ohio State Fair Stakes last week with Gabbys Bit Coin and Caviar Gold, but both colts will have to start from the outside post #8 in each of their $55,000 divisions of the OhSS for sophomore male trotters.
The post time for the 16-race card is 6 p.m.
RACE #10 – MGM NORTHFIELD PARK
$300,000 Carl Milstein Memorial Invitational
(estimated post time 9:30 p.m.)
PP Horse (Driver/Trainer) ML Odds
1. Night Hawk (David Miller/Brian Brown) 4-1
2. Heinikin Bythebay (Tim Tetrick/Kevin Switzer) 10-1
3. Soaring Now(Joey Putman/Aaron Stutzman) 8-1
4. JK Victory (Ronnie Wrenn, Jr./Ron Burke) 9/2
5. Bythemissal (Chris Page/Ron Burke) 7/5
6. Ponda Warrior (Jimmy Whittemore/Jay Hochstetler) 20-1
7. Pleaseletmeknow (Matt Kakaley/Travis Alexander) 6-1
8. Layton Hanover (Chris Lems/Travis Alexander) 15-1
9. Sport Secret (Doug McNair/Gregg McNair) 12-1