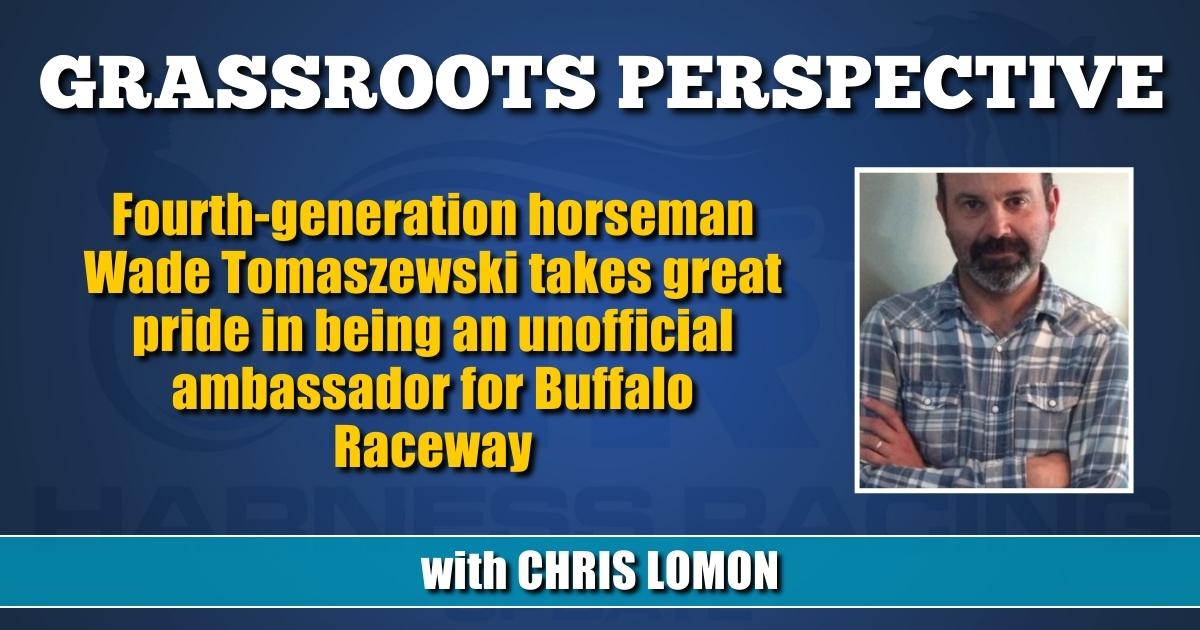 Fourth-generation horseman Wade Tomaszewski takes great pride in being an unofficial ambassador for Buffalo Raceway
by Chris Lomon
What's in a family name? For Wade Tomaszewski, it's everything.
"I'm a fourth-generation horseperson," said the native of Lancaster, NY. "My family has always had horses dating back to the start of Buffalo Raceway. Growing up as kids, it was go to school, go to the barn, go to baseball practice, get done with practice and go feed the horses at night. My parents own their own farm, so after school, we would always go jog the horses and take care of them. I was always helping my dad [Richard]. Our mare had a nice baby and at the time, I was the only person that could help out. So, I was 10 when I broke my first 2-year-old."
That horse, V' La Faire, a Tomaszewski homebred, would go on to make $320,054 in her racing career, one that yielded 37 wins, including a special one for a young, wide-eyed driver, who launched his life in the sulky in 2014.
On June 10, 2015, at Buffalo Raceway, the daughter of Village Jove delivered Tomaszewski his first victory.
"It's amazing. The horse that I knew right from the start was the one who gave me that first win. Her mom [Trade Fair] was the first horse I jogged by myself. And V' La Faire was the first one I drove in a race and won. She's a broodmare now and we have a couple of her babies, including a 2-year-old that's in training now. We had a couple of her sisters that we raced, too. She was such a nice racehorse. I really took it for granted how easy she was to drive. The only thing was, don't be first-up with her. If you tipped her out on the last turn, she'd come flying home. It's a pretty special story the way it all worked out."
And it has continued to work out well for Tomaszewski, who works full-time as a physical therapist assistant for the McGuire Group, an award-winning health care provider that has programs and services in Western New York and Long Island.
Despite the demands of his two careers, the 25-year-old, who graduated from Villa Maria College and started working at The McGuire Group in 2018, currently, at their Seneca health care facility, is living a busy, but rewarding life.
But his hectic world doesn't end at the office or the racetrack.
Engaged to be married this October, Tomaszewski and his fiancée, Nichole Ochs, are in the midst of whirlwind times in the lead-up to their wedding day.
"It's a very, very busy time for Nichole and I right now. She goes to school and works full-time, so she has lot going on. We're selling a house, buying a house, and getting married."
The harness racing industry has added several new fans, Nichole included, thanks to the efforts of Tomaszewski, who takes great pride in acting as an unofficial ambassador for Buffalo Raceway and the sport.
In certain instances, it's taken him a little longer to make a new fan, but those efforts haven't gone unrewarded.
One particular story comes to mind.
"Nichole was deathly afraid of horses when I met her. Now, she loves them. We own a horse together and she's just so happy being around the horses. She loves it. With my physical therapist job, I've invited people from the office to come out to the race all the time. It's something they've never seen before or never thought of, but they love it. You can reach a lot of people with this sport. It's a nice, little thing we have going on in this industry and at our racetrack. Everyone I've taken there has really enjoyed it. It's better than going out to a restaurant or bar and just watching TV. You can dine, gamble if you want and then you have a live sport every 10 or 15 minutes. We're lucky to have what we have."
It's why Buffalo Raceway continues to be a treasured place for Tomaszewski and his family.
"It's nice and it's fun. When we're at family parties and all my aunts – who used to help out around the barn – are there. It always gives us stuff to talk about, to recall some stories from the past and talk about what's going on these days. I know there are always rumors about things going under, but that's been the case for as long as I can remember. I hope it keeps going. It's been in our family for so many decades, and I want to see it flourish and do well for years to come."
It's why Tomaszewski is grateful to be carrying on the family legacy in racing, something he's reminded of every time he heads to Buffalo Raceway.
His connection to horse racing and horses remains as strong as ever.
"With racing, I just want to be as successful as I can be. I run a smaller stable with my dad, and with the couple of babies we have, hopefully, they make it to the races. Right now, it's a littler early to tell, but they've done everything we've asked of them. Hopefully, they can keep moving forward and travel with them around New York and have a really fun summer."
Tomaszewski doesn't have to worry about support. He has plenty of it to lean on.
"A lot of things going on at once right now, but there's so much to look forward to, personally and professionally. I know I can count on a lot of support from so many people."
That list, outside of his fiancée, family and friends, also includes the company he works for.
"With Buffalo having afternoon cards, I've been very lucky to have such a great employer, a fantastic boss, and amazing co-workers, who understand and allow me to pursue racing. If it wasn't for them, it would be a very tough decision to make if I had to cut back on racing and choose between work and racing."
Thankfully for Tomaszewski, he doesn't need to worry about such a choice.
Which makes his time in the race bike even more rewarding.
"The thrill of racing… it's something I truly enjoy. I drive for a handful of stables, and if you've had a bad day and things aren't going your way, when you win a race, everyone is happy. And that just turns your day around. That's what racing does, it can make everything in your life better."