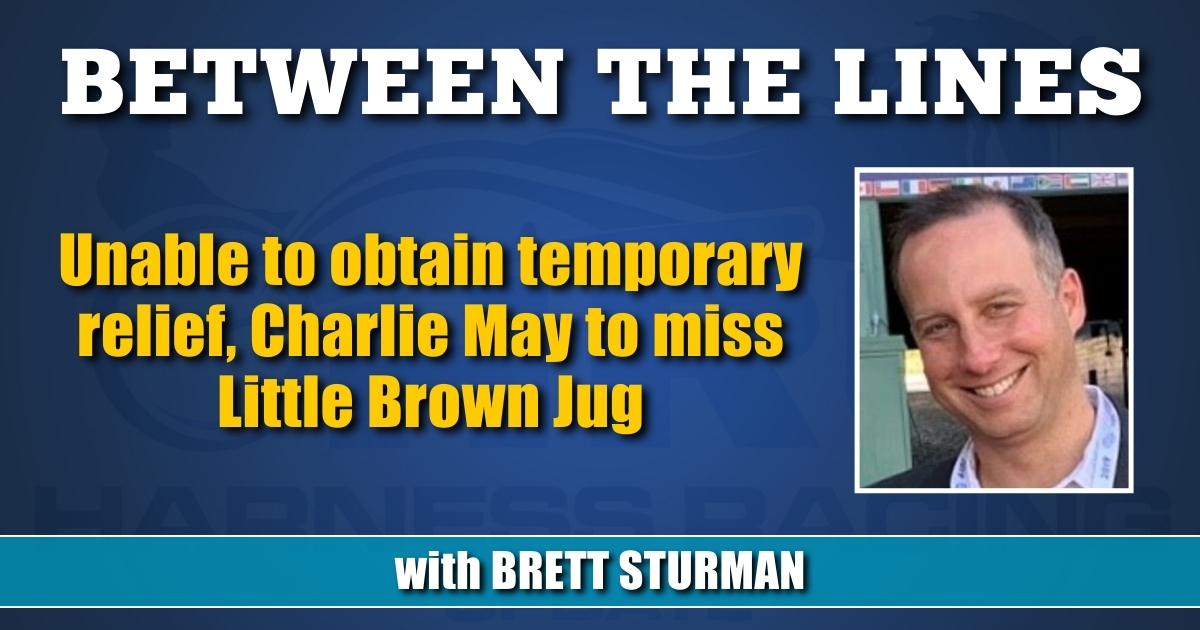 Unable to obtain temporary relief, Charlie May to miss Little Brown Jug
That and picks for today's Kentucky Championship at Red Mile.
by Brett Sturman
A hearing was conducted in New Jersey on Friday (Sept. 17), where owner Don Tiger was seeking a temporary restraining order for his prized 3-year-old, Charlie May, while his Meadowlands Pace disqualification remains under appeal. Such a decision would have likely paved the way towards Charlie May being able to supplement for $45,000 by Monday morning to the Little Brown Jug, though the stay was not issued.
Based on the evidence presented, Tiger was overwhelmingly confident Charlie May would have been granted a stay from New Jersey. Under similar precedent that allows trainers to race in one jurisdiction while having a matter under appeal in another jurisdiction (or even in the same jurisdiction), he was expecting an order that would have declared both Charlie May and Lawless Shadow winners of the Meadowlands Pace for Little Brown Jug entry purposes until the appeal is adjudicated.
After hearing evidence pertaining to the Meadowlands Pace events and if irreparable harm would be suffered if not for the order being issued, the administrative law judge ultimately decided that he didn't believe he had jurisdiction over the New Jersey Racing Commission to rule in the matter.
Now a moot point, Tiger was given indication that the Little Brown Jug Society would have accepted a supplemental entry for Charlie May if he was granted a stay from New Jersey.
Tiger's appeal in the Meadowlands Pace disqualification of Charlie May remains ongoing.
Selections for today's (Sept. 19) Red Mile $250,000 Kentucky Championship Series Finals
2-Year-Old Filly Pace
DON'T FENCE ME IN seems the most likely in this field of only three pacing freshman fillies. She wasn't beaten by much two back to Boudoir Hanover, and that one came back to nearly win the Champlain last week at Woodbine Mohawk. In that same race, she took it to SLOOPY and also held off that same rival in the most recent Kentucky Championship Series preliminary. Worth noting that SLOOPY did beat DON'T FENCE ME IN here at the beginning of August. CAPTAINS PRINCESS looks a tad outpaced but nothing wrong with being (at worst) third when going for $250,000.
Picks: Don't Fence Me In, Sloopy, Captain's Princess
2-Year-Old Colt Pace
PEBBLE BEACH avenged his lone career defeat from Caviart Camden two back when he beat that foe along with a few others in here in his most recent race. In that final Kentucky Championship preliminary he won as pleased in a race that really didn't set up for him well either; tons the best. WESTERN ERA was regarded high enough to be just 4-1 against PEBBLE BEACH here in August; tough luck in his last pair. RIVER NESS should be leaving from the outside.
Picks: Pebble Beach, Western Era, River Ness
3-Year-Old Colt Trot
DANCINGINTHEDARK M has now lost six times in a row at odds-on; that easily must be a record. He broke in the Goodtimes when coming first over and it's hard to know how we would have finished off the mile otherwise; gets a new driver in Sears. CUATRO DE JULIO is fast when right and looked to have the measure of VENERATE through the stretch in their most recent though VENERATE came back and lost in a desperately close finish. REALLY FAST is hit or miss.
Picks: Cuatro De Julio, Venerate, Dancinginthedark M
3-Year-Old Filly Trot
Another typical no-shot drive from a heavy favorite in a meaningless preliminary, this one most recently coming courtesy of EMPRESSIVE HILL last out. Derue kept her last on the inside throughout the race and kept that path through the stretch. She probably would have gotten second if she didn't break but was never going to get to BELTASSIMA who got away with a :57 half mile and trotted away strongly. LADY CHAOS can never be disregarded entirely.
Picks: Empressive Hill, Lady Chaos, Beltassima
3-Year-Old Filly Pace
After starting the year 0-for-6, BLUE DIAMOND EYES has won 4 out of her last 6 and that most recent in 1:47.2 was only 2/5th's of a second off the world record. THEBEACHISCALLING was able to get past both HIGH MINDED and SO IRRESISTABLE through the stretch last week but was nowhere near the winner.
Picks: Blue Diamond Eyes, So Irresistible, Thebeachiscalling
3-Year-Old Colt Pace
GOLDIE'S LEGACY closed with a :25.1 final quarter last out and getting off to an easy half and it's hard to envision a different scenario with the identical field of five. Gingras was never really after him through the stretch while the others were hard at work; seems best. KOMODO BEACH couldn't gain last out from the pocket and EXPLOIT couldn't do anything from third despite not having to leave the cones until mid-stretch; he's been somewhat underwhelming this year.
Picks: Goldie's Legacy, Komodo Beach, Exploit
2-Year-Old Filly Trot
SELFIE QUEEN gets a tune-up six days before she'll give it a shot against predominantly colts in the Mohawk Million. She did get tested last out from ADORE ME who was surprisingly good first over; that was a monster mile she went two back. ETERNAL LEE gets a big driver change. PINK GYPSY encountered a bit of a shuffle last out at the Meadows and was only a couple lengths behind Venerable three back; it looks like Gingras goes here over AMERICAN BEUATY.
Picks: Selfie Queen, Pink Gypsy, Adore Me
2-Year-Old Trot
DOUBLE DECEIVER broke before the start last out but trotted a storm two back once he was able to shake off the cones. He's capable of trotting a final quarter in :26 and will loom big. CLASSIC HILL paid a generous 7-1 last out considering he was coming off a near miss two back to King Of The North; obvious short-priced contender from the rail. S I P has capitalized on good trips in two out of his last three. KEG STAND is a bit of a question mark.
Picks: Double Deceiver, Classic Hill, Keg Stand
TrackMaster PPs available here