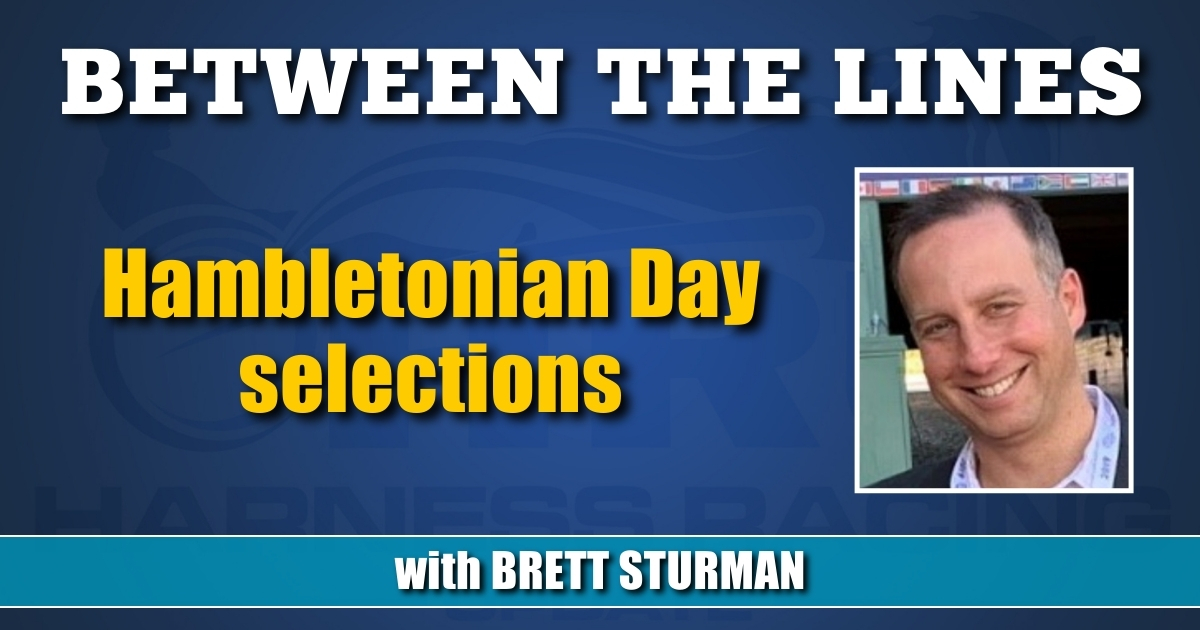 Hambletonian Day selections
by Brett Sturman
Race analysis for all stakes races across the Hambletonian day card:
Race 2 — Shady Daisy $97,550
FIRE START HANOVER enters the Shady Daisy in similar form that took her to last year's Dan Patch award for 2-year-old fillies. A week after coming close against Hot Mess Express, that win last week against Test Of Faith caught the eye. In that race she two-moved to the lead from post 9, yielded to the heavy favorite, and then took it to that rival in the stretch for a third move to win impressively. OFF THE RECORD has now paced consecutive sub 1:50-timed miles as a huge longshot both times for trainer Cleary and has earned herself another stakes chance. GRACE HILL is better than her last pair show.
Picks: Fire Start Hanover, Off The Record, Grace Hill
Race 3— Muscle Hill $50,000
I'm sure it's disappointing for the connections to race DANCINGINTHEDARK M in this stake considering that he was the Hambletonian favorite heading into last week's eliminations. He had a rough trip and it didn't look like he was going to make the final even before the break, but anything resembling his usual self would beat these easily; will be heavily favored. TYPE A was actually right there with one of the Hambletonian favorites Delayed Hanover on a couple of occasions earlier in the summer. JUJUBEE exits a strong win at The Meadows and has been first or second in all but one race this year. ETHAN T HANOVER was just second to that rival in the same race. CARUSO raced well on the front last out and was second to a 1-5 favorite taking a massive drop in class. WHISKEY BLU shows good lines and goes for sharp connections; will need to go faster though.
Picks: Dancinginthedark M, Type A, Jujubee
Race 5 — Cane Pace $276,150
The "safe" play in the Cane is PERFECT STING though prices will be there on others if you can guess right. PERFECT STING went a game trip in the Meadowlands Pace fending off nearly all pressure and won last out against foes he couldn't lose to. AMERICAN COURAGE has seen his stock fall a touch in recent weeks, but he's a contender if you toss the no-shot Pace final as well as that Pace elimination when they went to the half in :56.1, he's stuck with another bad post regardless. ONE EIGHT HUNDRED folded in his Adios elimination after going too fast early. Talented, but doesn't take adversary well. ROCKYROAD HANOVER could be a sneaky play. He had a lot of late pace when he angled late after saving ground; much better than his overall record indicates. BILLY CLYDE went fast miles here two and three back to fellow sophomore Lou's Pearlman and flaunted speed in his Adios elimination before a shuffle; another that could surprise.
Picks: American Courage, Rockyroad Hanover, Perfect Sting
Race 6 — Lady Liberty $191,500
ROCKNIFICENT blazed the way early last out in the Barton at Plainridge and was very good to come back on for second after she was able to get out from a tiring leader, prior speed try here at the Meadowlands in the Dorothy Haughton was excellent and she can win this. I wasn't looking towards JK FIRST LADY two back when she popped with that 1:47.4 mile and then gave way next out at Plainridge. It's back to the Meadowlands now but I'd personally be inclined to see if she can beat me. LYONS SENTINEL got the trip in the Barton and won as she should have off that; won't be at the same post disadvantage she was against these two races back. PEAKY SNEAKY may be turning the corner.
Picks: Rocknificent, Lyons Sentinel, Peaky Sneaky
Race 7 — Jim Doherty Memorial Final $326,850
VENERABLE was dominant in sweeping New Jersey Sires Stakes (NJSS) competition and may simply be the fastest developed filly of these right now. $210,000 Lexington Select yearling won last out in 1:52.2 and prior to that closed with a final quarter of :26.3. JOVIALITY S was just able to sneak out of third approaching three-quarters in last week's Doherty prep and got the jump on JIGGY JOG S, those two were well clear of anyone else in that race. MON CHEVAL was going to leave last out but it looked like Dunn thought better of it, would seem to have another uphill climb once again from out here. VALENTINA BLU can keep close from another inside post; hasn't been too far off against a few of these in prior races.
Picks: Venerable, Joviality S, Jiggy Jog S
Race 9 — Peter Haughton Memorial Final $293,450
TEMPORAL HANOVER followed home upcoming race favorite KING OF THE NORTH last week to be runner-up to that rival for the second straight race, but I think he's more than capable of turning the tables this time around. That 1:52.4 mile that these two rivals went a couple races back stands out and TEMPORAL HANOVER showed speed and had all sorts of stretch traffic that race; my guess is that Sears opts here over another Melander-trained horse LETSDOIT S though that one isn't without a chance either. ROBERTSIN won his elimination without much resistance, this field looms more tough for the lone gelding in the field.
Picks: Temporal Hanover, King Of The North, Letsdoit S
Race 10 — Sam McKee Memorial $157,100
NICHOLAS BEACH is a couple weeks removed from the fastest qualifier in harness racing history of 1:47.4. Freaky fast horse crushed Preferred foes here last week as tune-up, anxious to see what he can deliver in this spot. BACKSTREET SHADOW was hard used and game to be second in that wild edition of the William Haughton on Pace night; he's a player. RUTHLESS HANOVER went a giant first-over mile last week and was relentless in trying to get to CATCH THE FIRE who was equally game in fending off pressure from both sides; both of those 4-year-olds are doing well for themselves against older foes. WORKIN ONA MYSTERY outraced my expectations in the Roll With Joe and then was terrorized in the Haughton. AMERICAN HISTORY went wire to wire against lesser in a race where he took them to three-quarters in 1:19.4. ANGERS BAYAMA tailing off?
Picks: Backstreet Shadow, Ruthless Hanover, Nicholas Beach
Race 11 — John Cashman Memorial $269,750
Aside from the blip in the Crawford Farms when MANCHEGO went first over in to :56.3 crawl she's won all other races with relative ease. Post 3 seems ideal for giving Dunn options in this 11-horse field; can do it either way. In retrospect 8-1 was a more than fair price on BEADS when he won the Hambletonian Maturity. I hated his race prior if you tossed that his best would have been more than good enough, and it was. Will need to overcome an outside post yet again. LINDY THE GREAT was second last out to Manchego and is always in the mix against these. Should offer double digit odds once again and is capable of being there if a trip can be worked out from the second tier. READY FOR MONI won the Graduate two back off a perfect cover trip and then tired last out after being hard used to make the lead in that extended distance race; back to rallying tactics perhaps. FORBIDDEN TRADE upset similar here a month ago and finds the rail once again; looking for a similar trip.
Picks: Manchego, Lindy The Great, Beads
Race 12 — Sam McKee Memorial $158,500
CATTLEWASH continuously puts himself in positions to win with his early speed and now may even be able to conserve something by having landed the rail. In this highly-competitive bunch of free-for-allers in the second division of the McKee, he's been the most consistent and gets the nod. ALLYWAG HANOVER is more than capable on any given night when he brings his best like he did two back in the Haughton when he sprinted after finding room late; almost turned the trick again last week. THIS IS THE PLAN notched another big win from an outside post on a half-mile track; one of the best horses this year but a possible underlay in this spot. Nothing wrong from WESTERN JOE in his prep for this to be second last out to Nicholas Beach.
Picks: Cattlewash, Allyway Hanover, This Is The Plan
Race 13 — John Steele Memorial $187,400
I don't know what it means for this race, but ATLANTA really should have won last week. She was towed into it with a second over trip and every chance to open up while WHEN DOVESCRY was waiting for clearance to the inside. That's now two losses in a row after starting off the year with a win in the Joie De Vie. HYPNOTIC AM has been finding her better form of late and was a game second in the Hambletonian Maturity to Beads who was able to find a seam immediately to her inside. WHEN DOVESCRY was used, yielded and had enough to re-rally after a patient stretch drive by Miller; has been a model of consistency. FELICITYSHAGWELL S can surprise and I never guess right on NEXT LEVEL STUFF.
Picks: When Dovescry, Hypnotic Am, Atlanta
Race 14 — Hambletonian Oaks final $500,000
I thought that BELLA BELLINI had an edge over these coming into last week's eliminations and I'll stick with her again after coming up just short in her elimination as the 2-5 favorite. That 1:50.4 mile from two back still stands out and she didn't do any disservice to herself last week in that game first over try. LADY CHAOS was widely overlooked in her elimination in large part to Bella Bellini and her class showed through in lasting through the length of the stretch against that rival. Expect her to be in the mix as always. YOU ATO DREAM didn't miss by much in that elimination though had every chance in the stretch and was just a touch one paced; likely to show speed once again from the outside for Gregory. FLAWLESS COUNTRY loomed off longshot second over cover and looked menacing for a moment in the stretch in her elimination but couldn't sustain. HOT AS HILL followed that fillies cover to come three wide and likewise flattened just a touch late. That elimination win went to AWESOME TRIX who saved every inch of ground at 24-1 to pass 18-1 longshot ITERATION up the rail. Both will rate as longshots in here despite their 1-2 elimination finish. PIPER HANOVER was doomed by the post last out but the greater concern is that prior Geers race which was underwhelming.
Picks: Bella Bellini, Lady Chaos, Hot As Hill
Race 15 — Hambletonian final $1,000,000
DELAYED HANOVER was huge on the front end two back as a longshot against Dancinginthedark M and I was shocked that he didn't attract more attention than he did last week on the driver change to Dunn, who has opted to drive Really Fast in the final. Delayed Hanover, who will now be driven by Yannick Gingras, has never been in better form and stormed by the top pair in his elimination once he was fed racetrack. There's lots to like about him right now. Similar could be said for stablemate CAPTAIN COREY who exits a career best mile of 1:51.2 as a similar 6-1 overlay. His race two back in the Dancer was equally impressive and there's no question he'll be forwardly placed; Svanstedt looks to have the top two contenders. REALLY FAST gave it a good shot first over in his elimination and overall handled the step up in class pretty well. That said, I'd be surprised if he won the final and the price may be lower than I'd like to accept. SONOFAMISTERY pounced on battling leaders two back but raced more evenly in his elimination; anything is possible with Sears but he'd need the race to set up for him. AMBASSADOR HANOVER is due to get a driver change with Ake down on Captain Corey; still may need even more but he continues to go faster each week. VENERATE closed with some late interest in last week's elimination. CUATRO DE JULIO is one I'd be more likely consider if not for the post; I don't see how he overcomes it.
Picks: Delayed Hanover, Captain Corey, Ambassador Hanover
TrackMaster PPs for Saturday's Hambletonian Day card available here.