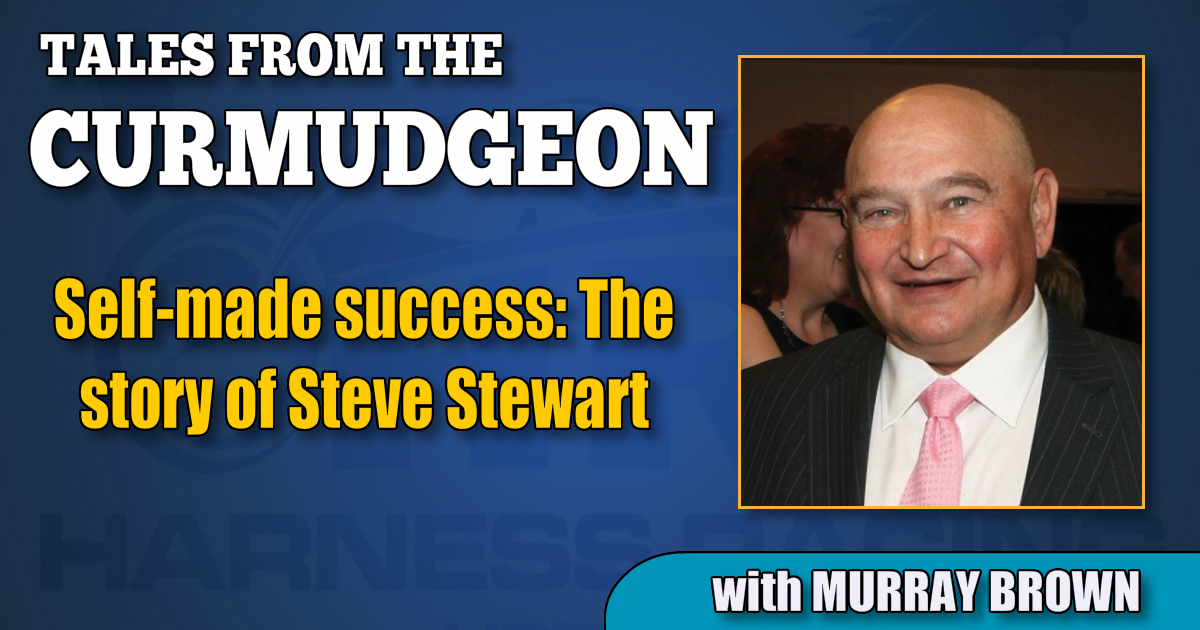 Self-made success: 
The story of Steve Stewart
How Hunterton Farms' Steve Stewart built a breeding empire from the ground up.
by Murray Brown
Steve Stewart credits two men, Joe Taylor and Bill Shehan above all others for any success he has had in the horse business.
Steve is the youngest of six kids and five boys born to Tom and Betty Stewart. His twin brother Mike preceded him by 10 minutes.
His parents had no background in the horse business, but their home bordered on Clarence F Gaines' original Gainesway Farm off Tates Creek Road in Lexington, KY.
All of the boys were destined to have a future in the horse business.
After college, the oldest, Tom, went to work for Alan Leavitt at Lana Lobell Farms in Hanover, PA and eventually became the farm manager. In 1972, he moved back to Kentucky to succeed the famed Charlie Kenney at world renowned Stoner Creek Stud, when it was owned by Norman Woolworth and David Johnson.
Although it was initially a thoroughbred farm and was a very successful one, it was destined to become one of the greatest of all standardbred nurseries. They stood the great stallions Meadow Skipper and Nevele Pride, but perhaps just as importantly, it has been the birthplace of seven Hambletonian winners —fabled ground indeed.
John, next in line, started his own Brentwood Farms in Central Kentucky, where he stood a few stallions and was essentially a horse trader surviving on his skill to buy and sell horses along with raising a few yearlings each year.
Bob, the next brother, became and still is an extraordinary horse trainer. He is best known as being the trainer of the immortal Hall brothers — stallions Conway, Angus and Andover.
The lone sister, Sue Ellen, became the dean of medical students at University of Kentucky.
Then came twin brother Mike, who was destined to become a veterinarian. Mike knew at a very young age that was what he wanted to be. He started working almost exclusively with standardbreds upon graduation from vet school and joining the veterinary group of Dr John Steele. He eventually went out on his own and practiced mostly at Yonkers Raceway.
His practice today is focused mostly on sport horses, although, when needed, he sometimes helps out some of his old standardbred patrons.
Then came Steve.
Growing up, Steve split his time between the family farm leased behind Gainesway and working with and learning from his three older brothers.
All the time, Steve maintained a close relationship with Joe Taylor who ran Gainesway Farm.
Joe ran a thoroughbred farm that at one time stood 54 stallions — yes 54 — all of which served mares by natural cover. Nevertheless, Steve's first and never ending love was with standardbreds.
Steve helped out his brother Bob at the racetrack and wasn't exactly sure which area of the standardbred business he wanted to be involved. But he knew he was going to be involved. Brother Bob dissuaded him from becoming a trainer.
Steve eventually decided that he wanted to run a farm, but not as brother John had done it. He wanted to be involved with high end, top of the line horses.
He took a course in equine studies at the University of Kentucky. He learned the basic dos and don'ts there, but quickly realized that there is no substitute for hands on experience.
He told his mom and dad about his plans and a family meeting was called to discuss them.
They met. Some agreement and slight contrarian views emerged. Steve realized that, above all, he needed his mom's support if his proposal was going to succeed. His mother's maiden name along with Steve's middle name is Hunter, so he proposed that the new farm would be named Hunterton Farms. Mama was all aboard.
Eventually an agreement was reached and the decision was made to purchase an 80-acre tobacco farm at the back end of Gainesway.
 The interior of the tobacco buildings were quickly converted to horse stalls.
The participants agreed to give young Steve a one-year trial year to either sink or swim. This all happened at the end of 1980, when Steve was 21.
Steve was to run it at a salary of $100 a week. Somehow, between inception and realization, that $100 a week became $50 a week.
Steve wasn't happy about the salary, but he reasoned that the salary wasn't all that important. What was most important was that the opportunity to realize his dream was coming to fruition.
Those were the glory days in Kentucky breeding. The four major farms — Castleton, Stoner Creek, Walnut Hall and Almahurst — were all standing top stallions.
The Stewarts stood to benefit by becoming a boarding farm for the mares who were booked to those stallions.
It was the first year that Castleton stood Niatross. Several of the mares booked to that great horse were sent be boarded at Hunterton.
In the interim, another family meeting was called after the trial year. Steve made a proposal that he would give the family 25 per cent of the gross proceeds, anything else would belong to him and his wife, Cindy. It was a no lose proposition. The family would get 25 per cent, regardless of any profit.
Almost immediately, they outgrew the original 80 acres.
In the interim, Steve's parents needed some money and had to sell the 80-acre farm.
Steve was only temporarily stopped. He found a 100-acre farm just adjacent to notable thoroughbred breeder Will Farish's place in Versailles.
Steve had no money to speak of. Enter Joe Taylor. Joe vouched for the young man. Because of Joe's support, the farm's owner, Jim Rouse, agreed to lease the farm to him.
The farm needed a lot of work. Horse stalls, among other things, had to be built. Steve was significantly underfunded. But he and Cindy were up for the challenge.
They stayed there two years, but things were not working to the Stewarts' satisfaction.
Along came Joe Taylor again. In 1987, Joe arranged for them to lease a 125-acre farm owned by Hal Price Headly. Headly was thoroughbred royalty in Kentucky. His father had been one of the original founders of Keeneland. They also eventually leased three other smaller venues.
Two years later, disaster struck. All of the top stallions in the Commonwealth shipped out. Of the high quality studs, only Abercrombie remained. Eight hundred standardbred mares left the Commonwealth.
New Jersey had become the land of Milk and Honey, with New York close by. Very few people would be shipping their mares to Kentucky to be bred.
Steve and Cindy quickly realized that there was no way that they could fight the changing conditions. Steve realized he had to follow suit.
They found and leased a farm in New Jersey owned by Joe Taub, then an owner of the New Jersey Nets.
It suited their needs perfectly. Just across the road was veterinarian Dennis Milne. In New Jersey, the Stewarts were close to where many of the top stallions were standing and fairly close to New York where a number of other good stallions stood.
Steve decided he needed to present his clients with a deal they could not refuse in order to keep their business.
He bought a used pickup truck and a six-horse trailer.
He would continue to board their mares and raise their yearlings. He would charge them only $90 to ship them to the New Jersey farm. They'd be able to breed to the hot stallions in New York and New Jersey and also be able to raise their foals in the lush Kentucky bluegrass.
Most of them stayed aboard and availed themselves of the opportunity.
The biggest negative for the Stewarts was that Steve was on the highway going to and from New Jersey 12 hours a day or more throughout the breeding season.
Hunterton Farms remained at the Headly Farms for 10 years.
In November of 1995, Steve's oldest brother, Tom, died of Leukemia. Two months later, their father died.
Those were very challenging times for all the Stewart family. Steve was distraught, but Joe Taylor told him, "You cannot bring your brother or dad back. You've got to do the best you can."
In the interim, Stoner Creek Farm had Jerry Snyder as its manager.
For whatever reasons, the farm's owners, Norman Woolworth and Alice Johnson, had decided to sell historic Stoner Creek.
It appeared that Robert McNair, the owner of the Houston Texans who owned the adjacent farm, was prepared to buy Stoner Creek and turn it back into a thoroughbred farm.
If that happened, the historical importance of the place to harness racing would be forever lost.
Steve, Cindy and their two children were in Florida and just happened to meet up with Margareta Wallenius-Kleberg and Norman Woolworth.
They got together and Margareta suggested that she would be willing to buy Stoner Creek, if Steve and Cindy would lease and maintain it for her.
Ms. Kleberg indicated that time was running short and she needed an answer quickly.
Here was Steve Stewart at the age of 35 being offered the stewardship of one of the greatest horse farms in the history of the world.
The only possible negative being its size of 700 acres was far bigger than anything he had ever been associated with; certainly relative to the number of horses they had at the time.
Steve, the eternal optimist or "pollyanna" as his mother had named him said, "We will just grow into it."
Indeed they did.
You and Cindy have a great relationship and have raised a wonderful family.
"I met Cindy in 1980 at the University of Kentucky. We got married in 1982. We have two children. Our daughter Elizabeth is an accomplished sporting horse trainer and rider. Our son Taylor (guess who he's named after) won a basketball scholarship to the United States Air Force Academy. He is now an accomplished pilot — Captain Taylor Hunter Stewart."
You keep mentioning Joe Taylor and Bill Shehan as being the two most influential people in your career with horses, let's talk about them, Bill first.
"Bill Shehan might have been the most brilliant person I've ever known, both in and out of the horse business. He taught me so much. Probably the most important lesson was, when raising horses, everything is important, especially the little things. He was brilliant, but sometimes he was a troubled soul.
"He was a gay man at a time when that was considered to be about the worst thing a person could be.
"He wasn't afraid to buck tradition and take on the establishment. He became pissed off with the owners at Tattersalls and together with Tom Crouch began the Kentucky Standardbred Yearling sale. Financially though, he was always living on the edge.
"People sometimes looked upon him at times as being a bottom feeder, buying cheap and breeding to cheap stallions. But that wasn't near the case. He bought what he could afford at a point in time and sometimes what he couldn't afford.
"When he was flush, he would spend and spend big. He spent a huge amount for Keystone Profile as a yearling and she turned out to be cheap relative to her later accomplishments.
"He established and owned Clermont Farms as great a piece of land on which to raise horses as any place on the planet. When raising his horses, he never skimped on anything. If a horse needed something it got it.
"The one thing he constantly preached to me was to never stand a stallion. It can kill your broodmare band. You are much better off having all options available to you when booking your mares, rather than to be glued to a horse you are standing. Looking back, I would say that he was probably speaking from experience. Although Castleton Farms stood him, Bill bet the ranch on his horse Tamerlane who turned out to be a colossal failure.
"He rarely went to the big name trainers, although I believe he had some with Billy Haughton at one time. Instead, he trained with Charlie Clark, Ezra Eads, Chip Noble and a then unknown young Swedish kid by the name of Jimmy Takter.
"As great a breeder as he was and as great an influence as he had on the sport, I can't imagine how much more it might have been if he had the funds to do things as he could with more means at his disposal.
"He was fond of poking at the establishment. He would publish his own little yearling catalog. Each year people looked forward to reading his introductions.
"One year, he made it a point to say that his horses did not have inherited money behind them. He made it clear that he had made it himself through brain power and hard work, obviously taking a jab at the ownership of Castleton and Walnut Hall, the two leading Kentucky farms at the time.
"One year, he got angry at George Sholty because George, as would many trainers, checked to see if a colt had two descended testicles. He wrote something in his booklet saying something to the effect that little sawed off horse trainers wouldn't be welcome to look at his yearlings if they were going to touch their testicles.
"Each time, he would get desperate for cash, he would have to have a dispersal sale. I believe the first was to Tom Crouch. The story I heard was that he sold his broodmare band to Tom for an astounding price to be paid over five years. That money eventually evaporated through bad deals in real estate and the establishment of a bar in Lexington.
"The next dispersal including Clermont Farms was to George Segal who renamed the farm Brittany Farms.
"After the Segal sale, Bill was left with a few mares and no farm. He chose Steve and Cindy Stewart with whom to board his few remaining mares. What an honor for a young couple working their way up.
"Later that fall at a Tattersalls mixed sale, he did what he did best. He purchased a very low priced mare named Bridle Path in foal to Nearly Perfect. I think the price was around $2,000. Bill had the remarkable to talent to look inside a horse to see what we ordinary mortals couldn't.
"The foal that she was carrying turned out to be the great filly Imperfection who won the Breeders Crown at 2 for Bill and trainer driver Chip Noble. After her 2-year-old season, once again strapped for cash, he sold Imperfection to Phil Tully who gave her to Ronnie Gurfein to train. She became a world champion.
"The last dispersal was at Harrisburg when he knew he was dying and sold his remaining mares through Preferred Equine."
Let's talk about Joe Taylor.
"Joe was the closest thing to a second father that I've ever had. Joe was there helping me at every step of the way in my career. I wouldn't have had the first three farms that I leased, if not for Joe Taylor backing and vouching for me. When we started the family farm, Joe allowed us to use an old round barn and some land in the back of Gainesway free of charge. Joe was great with horses and even better with and to people. I started buying horses in partnership with Joe in 1996. One of the first mares we owned together was Emory Girl, who became the dam of the great world champion Galleria and founder of her own family. Another was Hustler's Best who unfortunately had only four foals, one of which was Run The Table. Another wonderful mare that Joe and I owned together was the Illinois champion Legend Queen. Our best buy by far was the most expensive one. I was turned on to Emilie Cas El by my long-time Finnish friend and partner Martti Ala Seppala. She was one terrific race filly who was the O'Brien champion Horse of the Year in Canada as a 2-year-old. We bought her for $300,000 with Joe, Martti and I owning a third each. We also owned Pizza Dolce who herself has turned out three individual sale toppers in Kentucky. When Joe passed away, we aligned all the mare partnerships we had at the time."
Steve, you raise numerous partnership-owned yearlings, most of them with you as a partner. Tell us about them.
"I love having partners. I can get along with just about everybody. I'm totally a glass is half-full type of guy. I want to make money, but I want my partners to make money more than I do myself. I realize that if they do well, I'm going to do well.
"We have all sorts of partnership arrangements and leasing deals. So much depends on who my partners are.
"The great UK basketball player Cotton Nash and myself have owned horses together for a long time. He hates getting monthly bills, so I pay all the expenses and we divvy up after the yearlings get sold.
We have done incredibly well doing business in that manner. I have a great relationship with several Amish people, especially the Schmucker family in Northern Indiana. I get along with them so well because we share the same philosophy. We believe in quality first and that we are in it for the long haul. We might take a little off the top, but for the most part, everything we make we put right back in the business in the form of more and better broodmares and shares in popular stallions."
Let's talk about some of your greatest thrills in the sport.
"I suppose the greatest day I've ever experienced was on Hambletonian day in 2014. Trixton, a colt we bred and raised, won the Hambletonian and Mission Brief a filly we bred and raised won the Merrie Annabelle.
"Trailing not too far behind was a few weeks ago when Venerate a colt we bred and raised won the Mohawk Million at Woodbine Mohawk and Exploit a colt we also bred and raised won the Metro Pace on the same program.
"Of course, topping the yearling sale in Lexington more than anybody else has always been a thrill, but the sale is only the beginning. It's having your 'kids' do it over and over on the racetrack that provides the greatest satisfaction."
You speak of topping the sale, let's talk about a couple of your recent sales toppers.
"Tactical Landing is still the greatest looking colt we, or maybe anybody else, has ever raised. He was jaw-dropping beautiful from the day he first hit the ground. When he was just a weanling , Ernie Martinez saw him and tried to buy him. I said no. Our business is selling yearlings. Ernie came back with, 'Would you sell him for $600,000?' I said, 'if you have $600,000 for him, I'll discuss it with my partners.' Needless to say, he didn't come up with the $600,000. Come sale time, Ernie told me 'I'm going to buy that SOB regardless of what he brings.' 'Yeah, sure,' I thought. 'I've heard that line before.' Apparently, Ernie had lined up $600,000. The only problem was he bought him for $800,000. He needed another $200,000 and didn't know where to get it. He approached Howard Taylor who had been part of the Burke group that was the under-bidder on him. There was no conflict of interest since the Burke group was now out. So Howard was in for $100,000. Then Ernie came to me and wanted me to come in for the remaining $100,000. I told him, 'No way. I'm in the breeding business, not the racing business.' A few days later, I was having dinner with Myron Bell and we were talking about the colt and Myron asked me, 'Do you really believe in the colt?' 'Sure I do,' I responded. 'He's the best horse we ever raised.' Then Myron said, 'You need to buy in. I had the same experience with Michael Parisi after we bought Captaintreacherous. I told him, 'You bred him. You need to show the confidence in your own product and come in for a piece.'' I took his advice and I'm very pleased that I did.
"The Mission Brief filly this year is gorgeous. I felt confident that she would top the sale. I had no idea of how much she would bring because of what's going on in the world today. But I knew she would top the sale and she did. Like all breeders I wish her buyer Anders Strom every possible success with her."
How about Timonium (AKA Harrisburg) this year, what are your thoughts?
"I think the sale will be very good. Perhaps, on a relative basis, even better than Lexington. I think there will be far more Canadians in attendance because of the Super Finals being over. The restrictions on returning to Canada won't affect horsemen as much as it would have if they couldn't participate in those big money stakes. I've also heard that many Europeans have plans to attend."
How about the future for the Stewarts and Hunterton Farms?
"Better for sure and possibly bigger. That's always been my philosophy. I'm the perennial optimist. Every day is better than the previous one, mostly because I believe I benefit from my mistakes and those that I see others make. I'm a huge believer in the future. We will keep on investing in what we believe. We will be selling all of our yearlings, even those fillies that we consider to be our best. Our first yearling crop in which we had some ownership included eight yearlings. This year we have 85. Next year, I hope we have more and better ones. There is only one direction that I believe and that is going forward. The only benefit to be found in the past is in correcting mistakes you have previously made."
Have a question or comment for The Curmudgeon?
Reach him by email at: hofmurray@aol.com.