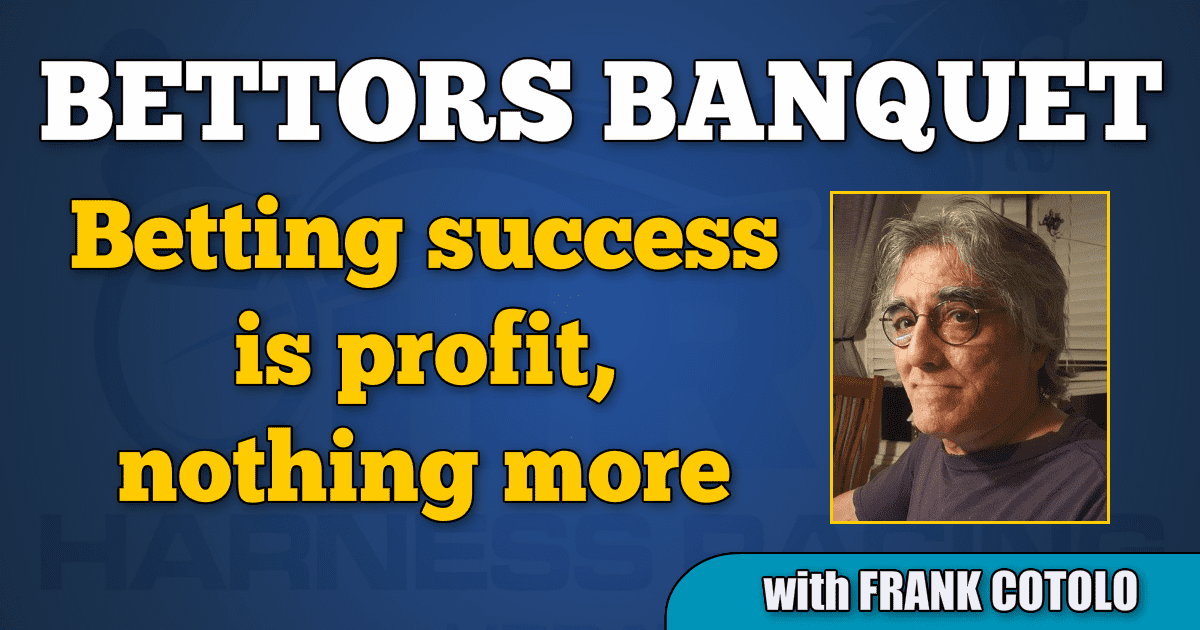 Betting success is profit, nothing more
by Frank Cotolo
(**Editor's note: Today marks the first of a new HRU column from veteran handicapper Frank Cotolo. The aim of the author is to not only help bettors make profitable selections, but also, over time, to give specific advice on major events and how to navigate betting at smaller tracks).
Before I start writing about anything else, I will make a few statements about pari-mutuel bettors. First, they bet on too many races. Second, they buy into too many types of betting gimmicks. Third, they bet inconsistent amounts. Fourth, they misinterpret the meaning of "value." Fifth…
Wait.
Now that I begin to write about the subject of pari-mutuel bettors, I realize there are too many traits about them that unite their peculiar, misguided character than can be capsulated in this introduction to Bettors Banquet.
Let me, then, start by simply paraphrase some wise gambling lore: "When it comes to gambling, there are a million different ways to lose, yet only one way to win."
That refers to betting with a primary approach — attempting to make the largest profit available. I know you do not do that because it is against human nature, which is an element that weighs down every player.
Without knowing 99 per cent of you, I know at least 99 per cent of you have lost more money betting the harness races than you have won.
One way I know this is because you, like most bettors, do not keep a ledger of how much you played, won or lost. If you have no record of it all, you cannot prove you are a winner.
Another way I know this is because most bettors handicap races in order of preference — you know, the top horse they "like" to win, their second choice (not so much to win) and third choice (not so much to win or place) and they do it regardless of the price offered. You play a horse to win because you like it to win and that is not always the best reason to make a bet.
Yet another way I know this is because most bettors play too many races, sometimes every race in an entire program, which includes races that they should never play if they were serious about making a profit. I know you don't pass races and if now and again you do, you do not pass enough of them.
Still another thing I know you do is hurt your chance of making profits because you spend too much money on exotics that do not reward you what you deserve if you win, as well as I know you buy too many combinations.
More? All right. I know you wrongly justify playing more exotics than are necessary in the campaign for profits.
I know all this and more and you should, too, because there are so many possibilities for profit in a betting atmosphere that offers exactas, trifectas, superfectas, pentafectas, daily doubles, Pick 3s, Pick 4s, Pick 5s, Pick 6s and many of those that "roll" from race to race to race and so on. You gorge, I am sure, when you should pick and choose what bets to consume.
Bettors Banquet (BB) will devote itself to the sole purpose of profiting from pari-mutuel wagers on harness races by changing how you play, how much money you play and how often you play.
BB warns you that old habits die hard and you are going to murder them slowly and consciously.
You have to be open to making big changes in your approach to the game.
You have to let go of many things that provoke you to wager at all.
You have to let go of age-old handicapping and wagering tenets that should be tossed into a pyre and burned to cinders with your ego — if you are to increase your chances to have a successful betting campaign.
Here is the first law of making a profit, just to whet your appetite:
"It is not the number of bets you win (that measures success), it is the amounts of the bets you win (that measures success)."
Success is profit, nothing more.
Here is another must for making a profit, just to whet your appetite more:
Making a profit at wagering on harness racing does not owe its potency to a "system" or a "method" that was subjectively concocted by using races that fit a premise. Profits from wagers are only produced when the player understands fundamental math. No degrees in the subject are necessary; every veteran and novice player that went to school should already know the level of math necessary; all that will be added is a respect for its consistency, power and the audacity to challenge it at the appropriate moments.
Bettors Banquet will offer one more piece of wisdom a player must rely upon in league with simple math and a goal for profits — this one being the most important of all wagering rules, no matter the game of risk involved:
"Make decisions, not selections."
Take a breath, read from the top down again, print the wise quotes, frame them and also keep copies of them on your person at all times for reference, for reminders.
As you become more acquainted and comfortable with your motives, you will see an utter brilliance in this approach, one that transcends the game you have been playing.
You should then realize there is no going back to the heavy-handed means of handicapping and betting, a process that cost you money and health.
You will become one of the few — emphasis on few as in scarce, sparse and rare — harness players who profit from pari-mutuel wagering.
That is not a guarantee; there is no guarantee. However, it is the "one way to win."
To be continued…