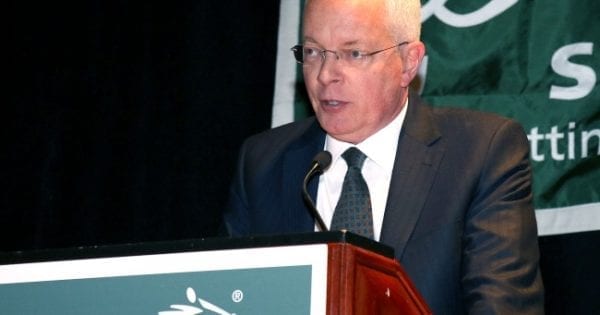 "Establishment candidate" Williams elected USTA president
Russell Williams said one of his first tasks will be to clearly communicate initiatives that point to the fact "the USTA is doing a great job" and is on the right path to doing even better.
by Dave Briggs
Russell Williams said one of his first tasks as president of the United States Trotting Association (USTA) is to communicate clearly and effectively some of the good work he sees the USTA doing and improve upon it.
Being the self-described "establishment candidate" who believes "the USTA is doing a great job" is one of the main reasons he believes he defeated four other candidates for the position in an election held at the USTA's annual meeting Monday morning (Feb. 27) at the Rio All-Suite Hotel and Casino in Las Vegas.
"It was too easy for there to be a sky-is-falling candidate, a 'we're going to hell in a hand basket' type of thing. There's always going to be that kind of candidate, but it was just too easy. We're sitting ducks for it and I think that needs to change," Williams said.
"If we skip past that initial stage of getting roots into the job and meeting with the people that I have to meet with, one of the things that has to happen is for me to explain to the board and to the membership some things they don't know about what's going on at the company. There's good stuff happening… I want to help with that and facilitate that."
Williams, who represents District 7 as a membership director and most recently served as the USTA's vice-chairman, was elected by a majority vote over Joe Pennacchio, Jason Settlemoir, Ryan Macedonio and Freddie Hudson after two rounds of voting by the 54 USTA directors in attendance. Williams replaces Phil Langley as president. Langley, who was president for 14 years, resigned his post effective Dec. 31, 2016. Williams will serve the remainder of Langley's term until 2019.
In the first round of voting, Williams led the candidates with 22 votes — Pennacchio had 17, Settlemoir had 14, Macedonio had one vote and Hudson had zero — which was not enough for the necessary 28-vote majority. Hudson then dropped out of the race and in the second round of voting, Williams received 28 votes, followed by Pennacchio with 19, Settlemoir with seven and Macedonio with zero.
"I would say that the voting had a lot to do with how well they felt they knew the candidate, individually. I wish they knew me better than they do. I'm going to fix that, but just the fact that I've been around," said Williams, who is the chairman of famed Hanover Shoe Farms, vice-president and chairman of the Standardbred Horse Sales Company and the grandson of Hanover founder Lawrence Sheppard.
He said his family history was another motivation to run for USTA president.
"I work with people and I'm related to people that kind of went all out at one time or another," Williams said. "I think I can do some good. And, if not, at least I tried."
Williams acknowledged the industry has many challenges that include declining USTA membership, but he also pointed to an upward trend in the number of mares being bred as one sign not everything is doom and gloom.
Though some have indicated the USTA would be best to sharply decrease its number of directors from its current 60, Williams said he likes the board as it is.
"Now, if the membership decided to make it smaller, we would implement that. We work for them, so it's not my choice, but I like it," Williams said. "We have 60 talented people. A third of those are from the tracks. The horsemen sit down with the tracks at the USTA, inevitably. The good ideas come from all directions and I think sometimes people need encouragement to take leadership on an issue. With a group of 60 like that, there's a lot you can do and it's more representative. We could have six and it could be very efficient and do everything in one day, but a lot of people would be left out."
As for good work he sees the USTA is doing, Williams pointed to its online and social media initiatives.
"One of the coolest things at the USTA right now is that we've worked with (Rob Key's) Converseon for a couple of years. We parted company with them, but not before we learned a heck of a lot about sophisticated marketing. We've got this Harness Racing Fan Zone with tons of data," Williams said. "We have about 70,000 visitors on there that we can get back to and there's a lot we can do with that. We can actually formulate an expansion of that, like lookalike marketing is the obvious thing you can do. We might need professional help along the way, but we can do that a la carte. We don't have to give (a major marketing firm) half-a-million dollars and then find out what they think we can do."
Williams said embracing technology is key to the future.
"Virtual Reality is going to be huge for us. I got some high school students at Hanover working on a race VR program. I figured we'd use crazy high school students that have no fear of technology and lots of creativity. They are putting it together and they have the equipment," Williams said.
Standardbred Canada CEO Dan Gall spoke at the meeting shortly after Williams was elected and indicated a strong willingness to work with the USTA.
"I like everything (Gall) said today. Those are all points that we could work well together on," Williams said. "We could save money. We have to do that. I see North America as one racing market, with separate traditions."
At Hanover Shoe Farms, Williams has been a chief advocate of retaining retired broodmares and Hanover-bred horses that fail to attract a minimum bid at auction. Williams estimated there are about 110 retired mares at Hanover and it costs about $100,000 annually to keep and care for them. He said having a plan to care for horses after they are done racing is critical to the sport's future.
"I think that's going to happen naturally because (vice-chair) Don Marean, a very deliberate, careful person, came up with this Save Our Standardbreds program," Williams said. "We've been moving in that direction and I think the standardbred breed has to make post-career life of horses an equal part of the equation. We put a lot of money into breeding and selling yearlings, of course racing and all that. We just have to think about and provide for that last segment. We have to. Dan (Gall) said it very well, saying that 'there's a social responsibility aspect to this'. Perhaps we've been slow to embrace it as a body, but it's happening."
As for other things on his wish list, Williams said it was too early to commit to anything.
Besides, he said, he works for the board, and, as such, "the president does not have much power, but I think could have a lot of influence. Phil Langley just said something to me about this. It's not about me, but often times you can identify where people agree, but don't know that they agree. Or they each have something to contribute that the synergy is greater than the individual parts," Williams said.
Iva Axelrod was re-elected chairman of the USTA, topping District 4 chairman Gabe Wand by a vote of 30-24.
Marean was elected vice chairman. He received 30 votes, defeating District 2 membership director Steve Oldford (19 votes), and District 6 chairman Alan Leavitt (4 votes). One director abstained.
Sally Stauffer, USTA executive secretary, was voted secretary of the USTA. She ran unopposed, replacing Barbara Brooks, who retired from the USTA after 62 years of service and 22 years serving as secretary. Dick Brandt, a membership director from District 1, was voted treasurer of the USTA, also running unopposed.
The USTA added six new directors this year. District 2 sat Mike Carlo of Northville Downs as track director, replacing the late Ken Marshall; and membership director Sam Hedington, who replaced Jerry Landess. District 5 sat track director Jim Miller of Hawthorne Racecourse, who replaced Langley (and received a standing ovation after his contributions to the industry were recognized by Axelrod). District 6 sat track director Joe Frasure Jr. of Pompano Park, who replaced Brett Revington. District 8 sat Matarazzo who replaced Wiles as mentioned previously. District 11 sat track director John Hensley Jr. of Dover Downs, who replaced Jim Boese of Harrington Raceway.
The board of directors annual meeting will continue through today (Feb. 28). Today's meeting includes the Racing Committee (combining the Driver/Trainer, Fairs, Pari-Mutuel, and Regulatory committees); Finance Committee; Rules Committee; and second general session, including the new president's address, remarks by executive vice-president and CEO Mike Tanner, and approval of the 2017 USTA budget.
— with files from the USTA Communications Department