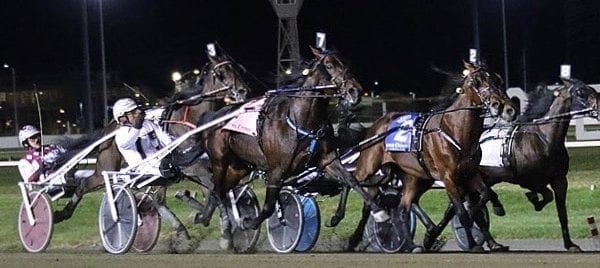 Flanagan Memory posts emotional triumph
by Chris Lomon
There's no doubt that breeder Michel Flanagan would have loved this victory.
Born two weeks prior to the passing of Flanagan, the now six-year-old Flanagan Memory delivered one of the finest and most memorable performances of his 67-race career, a top-notch triumph in the $500,000 Breeders Crown open trot, Friday evening (Oct. 29) at The Meadowlands.
For Flanagan's daughter, Liette, president of a Montreal business association founded by her father in 1972, it is undoubtedly an emotional win, the 19th career victory for the Ontario-sired bay she co-owns with trainer Rene Dion.
Flanagan Memory was sent off as the 4-1 second choice behind multiple stakes-winning rival Resolve, who came into the open trot on a three-race win streak, including scores in the Maple Leaf Trot final at Mohawk and a record-setting effort in the International Trot at Yonkers.
Brian Sears had Flanagan Memory, out of the Flanagan-owned mare Classy Stacy, well-positioned after an opening panel of :27 and a half-mile in :55.3. When Ake Svanstedt made his move with Resolve, Sears also had his charge ready to roll.
As the field straightened for home, the son of Kadabra weaved his magic and eventually wore down the 1-5 mutuel favorite, who he was third in the International Trot on Oct. 15, finishing one length in front at the wire.
The final time was 1:52.1. Resolve held for second with JL Cruze third.
"We got to follow Resolve second over halfway down the lane, so it worked out really well," said Sears. "The horse has been racing really well. Rene and (caretaker) Susie (Kerwood) really deserve it – they've done a great job with this horse. It's great to get it done for them and Lily also."
Dion applauded the gutsy effort.
"Like they say, it all comes down to the Breeders Crown, and for that horse it's been a fantastic journey," he said. "He impresses me all the time with every race he does. Lots of times he's the underdog, but he always closes very strong. He's been racing good all summer actually."
For Svanstedt, it was a disappointing result, but a game showing by the lifetime earner of over $2 million.
"He did a good race, but he was not as sharp as he could be," said the Swedish driver/trainer. "I felt it when the gate left. He didn't follow by himself, I had to push him. Normally, he leaves fast without me having to push him. But he fought to the end. I feel okay about it. He's not in top form, but he raced good even if he doesn't have top form."
This night, however, belonged to Flanagan Memory, who now boasts $1,533,070 in lifetime earnings. In 14 starts this year, he has six wins, including the Allerage Farms Open Trot at Red Mile, one second and four thirds, accompanied by $636,537 in earnings.
"This horse, he just likes to pick them up late," praised Sears.
For Liette Flanagan, who once had little involvement in horse racing, her decision to keep the horse against the advice of many – including her late father – has paid off handsomely.
Yet, it's not the seven-figure bankroll, victories in the 2015 John Cashman Memorial, 2013 Goodtimes Stakes, and 2013 Ontario Sires Stakes championship, or the 2013 O'Brien Award for Canada's best three-year-old male trotter, that are the most meaningful to his connections.
Instead, it's a well-documented story whose latest chapter is a Breeders Crown title.
"It's definitely a great story," Dion said. "I was very good friends with Michel. He always wanted to have a great trotter and unfortunately he didn't have the chance to be here for this one. I'm glad I'm a partner with Liette. It's been a good journey. To have this horse and the horse to be that good and racing that great, it's definitely special."
And on this night, it was fit for a Crown.